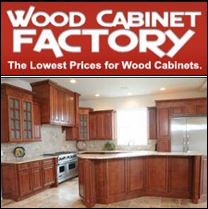 "We are committed to providing the best products at the most competitive prices, which means consistently evaluating how we can improve to better serve our clientele," said Don Krom, Sales Manager at Wood Cabinet Factory
Fairfield, NJ (PRWEB) May 22, 2013
Wood Cabinet Factory, an established distributor of kitchen and bathroom cabinets and countertops, is taking great strides to support a growing interest in eco-friendly home products and materials. Recently, the company started supplying cabinets that use a water-based ultraviolet coating that is less harmful to the environment with a high-quality finish. As consumer interest in safe and natural products continues to rise, this new offering is another way to reduce the environmental impact of home construction and upgrades.
Don Krom, Sales Manager at Wood Cabinet Factory, explained the company's interest in this new feature. "We recognize there is a growing interest in environmentally preferred products. We are proud to carry this new, eco-friendly coating for select cabinets as a way to ensure enduring quality with fewer chemicals and additives." He continued, "We are committed to providing the best products at the most competitive prices, which means consistently evaluating how we can improve to better serve our clientele."
About Wood Cabinet Factory:
Wood Cabinet Factory was born out of an idea to simplify kitchen design and offer cabinet installation at an affordable price. The company provides stock cabinets that can be designed in unique and creative ways to give a custom look to any kitchen. In addition to a broad selection of kitchen and bath cabinetry, Wood Cabinet Factory also offers countertops in dozens of materials and various edge profiles. For more information, visit http://www.woodcabinetfactory.com/.