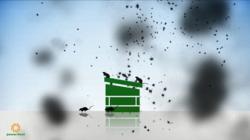 Most people are just unaware of their options to dispose of waste food
Milpitas, California (PRWEB) May 23, 2013
Power Knot announces today the release of a new video to assist hotel and restaurant owners in understanding how they can dispose of waste food in a clean and sanitary manner. The Liquid Food Composter (LFC) from Power Knot digests waste food. The video shows how the LFC obviates putting waste food into a trash container where it will smell as it rots.
Many commercial producers of food – including hotels and restaurants – have an unavoidable amount of organic waste. The problems associated with this waste are fairly common: the handling of the waste food is a messy and tiresome business; the garbage container smells; the garbage container attracts flies, or worse, rodents; and the cost of the trash collection too high. In addition progressive companies – especially green restaurants, green hotels, and green businesses – are trying to make a big reduction to their carbon foot print or trying to have zero waste exit their facility. The LFC from Power Knot can help solve these and other problems and the video shows in a simple animated manner how it can help.
"Most people are just unaware of their options to dispose of waste food," said KareyAnne Hill-Peterson, in marketing at Power Knot. "We wanted to show them a green way of proper disposal. The video goes step by step through the issues in a way that even my mother can understand."
The LFC digests waste food in a clean, sanitary, and odorless manner. It fits in the kitchen or washing area so it is convenient and simple to use. As a biological high technology digester that is totally green, the LFC saves the mess, cost, and inconvenience of dumping the waste on a landfill. The LFC reduces significantly the carbon footprint of any company and typically has a payback of less than two years.
The video is available at: http://youtu.be/czEJ8Hhma98
Pricing and Availability
The LFC is available in a family of six machines. The smallest is the LFC-50 (from 50 lb (25 kg) per day) with the largest being the LFC-500 (up to 2000 lb (900 kg) per day). These vary in price from $16,000 to $54,000 and are available now.
About Power Knot LLC
Power Knot provides safe and economically sound solutions for commercial, industrial, and military customers globally seeking to reduce their carbon footprint. The Liquid Food Composter (LFC) allows customers to reduce the expense, inconvenience, and mess of disposing of waste food that would otherwise be hauled to a landfill. Models are available that process from 50 lb (25 kg) per day to 2000 lb (900 kg) per day of waste food. Our technologies are proven, available today, have been in reliable use for many years, and offer a payback period typically of less than four years. Power Knot has its headquarters in Milpitas California. For more information, access http://www.powerknot.com.