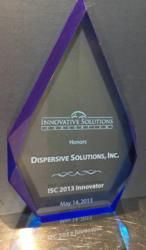 Atlanta, GA (PRWEB) May 22, 2013
Robert W. Twitchell Jr., CEO of Dispersive Solutions (DSI), presented at the ISC Innovation, Identification and Investment Forum, along with nine other finalists, who were chosen to compete for the "ISC Most Disruptive Technology Award". The original applicants were evaluated by Dr. John Phillips (former Chief Scientist of the CIA) and Dr. George Tecuci (Director of George Mason University's Learning Agents Center and former Director of Artificial Intelligence at the U.S Army War College).
The ten finalists, including DSI, received the "ISC Innovator" status Award. They were chosen because they represented some of the best business solutions that "solve some of the most vexing problems in intelligence, defense, security, technology and related fields." The three government problems being addressed by the presenters were: Persistent Surveillance, Assured Connectivity, and Data to Decisions.
Expert panelists included Dr. J.P. Auffret from George Mason University, Dr. Krzysztof Cios from the Virginia Commonwealth University (VCU), Dr. Richard Scissors from the National Security Agency (NSA) and Brigadier General Klaus Schafer (Retired), a former Assistant Surgeon General with the U.S. Air Force (USAF). They evaluated the final ten companies and Dispersive Solutions (DSI) came in second place, with only a one point difference between the winner of the top award and DSI.
The Keynote Speaker was Dr. Reggie Brothers, Assistant Deputy Secretary of Defense for Research. Dr. Brothers is responsible for policy and oversight of DoD Science and Technology programs from Basic research through Advanced Technology Development. His topic was "The importance of Research and Advanced Technology Development collaboration in solving difficult real world problems and for continued technological superiority in a time of asymmetrical warfare."
Reflecting upon the award, DSI's Bob Twitchell commented, "It has been a long road getting to this point, and we are humbled by this recognition. We are looking forward to a continued roll-out of our patented technology, Virtual Dispersive Networking—to the military, federal government, and the commercial sector."
Bob Twitchell introduced DSI's patented Virtual Dispersive Networking (VDN) Technology. VDN is a 100% software solution that works on a company's existing network infrastructure and devices.
DSI's Virtual Dispersive Networking (VDN), with Spread Spectrum IP™, splits data traffic across multiple independent paths as it traverses the Internet, rather than sending all the data over a single path, which is presently how it is done. Consequently, if a Man-in-the Middle attack takes place on the Internet, the hacker is only getting a small piece of the document/message, rather than being able to copy all of it. Hence, the information taken is of no use to the hacker, and he has no indication how many additional paths on which the other pieces of data are traveling.
The selected paths for each piece of the data stream are random, simultaneous, and continuously changing, analogous to a "spread spectrum frequency hopping" radio for IP based networks. This technology makes it nearly impossible for the hacker to know what other paths are being used to transmit the remaining pieces of the file.
Besides the secure transmission of the data, additional benefits of VDN include an increase in network throughput speeds, improved quality of service, and the ability to firewall any device in the "cloud". In addition, VDN technology prevents interruption of network operations by automatically and instantaneously identifying an attack on any network component, and isolating that device from the rest of the network. Hackers are unable to move to, or affect other devices on the network. In addition, VDN is a more secure replacement for the VPN, with faster throughput speeds than a secure VPN.
DSI serves any industry, including government, military, transportation, energy, shipping, and corporate security.
Dispersive Solutions, Inc, is led by Robert W. Twitchell Jr., CEO, and inventor of VDN technology. He has an extensive background in the wireless industry. He holds over 80 granted patents with many more non-provisional patents pending in wireless, GPS, networking, and location technology. He is also a Subject Matter Expert for the Department of Defense on Mobile and Wireless Technology.
Media Contact:
Darin C Bell
Director of Marketing/Communications
678-648-6395
http://www.DispersiveSolutions.com