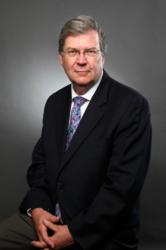 Sustainable development is a critical challenge affecting the natural resources sector and his efforts have undoubtedly made a significant impact.
Atlanta, Georgia (PRWEB) May 22, 2013
The Canadian Institute of Mining, Metallurgy and Petroleum (CIM) announced that this year's recipient of the Syncrude Award for Excellence in Sustainable Development is Gordon Peeling. The award acknowledges his exceptional leadership of the Mining Association Of Canada (MAC) and his work with Government, Industry, NGOs and communities to develop an internationally recognized framework for sustainable development. Gordon received this award during this year's CIM Convention in Toronto on May 6, 2013.
According to the CIM, "The Syncrude Award for Excellence in Sustainable Development promotes the Canadian minerals industry as an active seeker of sustainability solutions that engage and affect the Canadian public. Sustainability is defined as meeting the needs of the present generation without compromising the ability of future generations to meet their needs. Sustainable development includes the interdependent and mutually reinforcing pillars of economic development, social development and environmental protection."
On receiving this award, Gordon remarked, "I am deeply honored to have received this prestigious award. I would like to express my gratitude for the hard work and diligence of my colleagues, peers and friends across the industry whose support and contribution have been pivotal in enabling us to make such significant progress. We recognize too that the future holds new challenges and acknowledge too that much work still lies ahead for all of us across the sector, as we look to meet the needs of our current and future generations."
Gordon is the former President and Chief Executive of the Mining Association of Canada. Peeling recently stepped down from this position at the end of May 2011 after a distinguished thirteen and a half year career leading the peak industry body in Canada. Prior to joining the Mining Association, he was Vice President of the International Council on Metals and the Environment. With over 35 years of mining experience, Peeling currently serves as a Director of Great Quest Metals Ltd. and the National Aboriginal Achievement Foundation. He is also a member of the External Stakeholder Advisory Panel to Inmet Mining Corporation and Alexander Proudfoot's Advisory Board. Peeling has also served as the Chair of the Raw Materials Committee of the Business and Industry Advisory Council to the OECD since 2002 and completed his final term of office in October of 2011.
Previous winners of this prestigious award include: Britannia Mine Museum (2012), IAMGOLD Corporation (2011), James P. Cooney (2011), BioteQ Environmental Technologies (2010), Osisko Mining Corporation (2010), Iron Ore Company of Canada (2009), and the list continues.
Alan Steelman, Vice Chairman of Alexander Proudfoot and Chair of the Advisory Board commented, "I am delighted that the significant contribution made by Gordon has been acknowledged in this way by the CIM. Sustainable development is a critical challenge affecting the natural resources sector and his efforts have undoubtedly made a significant impact. It is thoroughly well deserved."