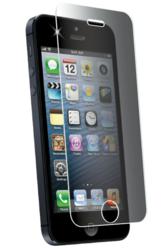 Draper, Utah (PRWEB) May 23, 2013
BodyGuardz, provider of leading gadget protection products and consumer electronics accessories, has launched the ScreenGuardz® Pure™ Privacy. Available in June, the product offers the protection of BodyGuardz' renowned tempered glass protector, the ScreenGuardz® Pure™, while allowing both a privacy view for individual use and a transparent view for horizontal video sharing.
The product incorporates a privacy film on the bottom layer allowing the device to be seen no more than 25 degrees to the right or left. It's also chemically tempered, meaning users benefit from remarkable durability with the sleek feel and clarity of glass. A smudge-resistant coating and high touch sensitivity ensure performance in equal measure.
"The Pure™ Privacy is the latest addition to the increasingly diverse Pure line, and we're thrilled with its look, functionality and performance," said Dain Hodson, COO of BodyGuardz. "The privacy screen is activated when the user holds the phone vertically, but it allows others to see shared content when held horizontally. It's the perfect solution for those who want a privacy filter but don't want to compromise the feel of the device."
ScreenGuardz® Pure™ Privacy Protector Advantages

Protection – 8H+ surface hardness, offering superior durability and scratch prevention, as well as shock, heat and chemical resistance
Clarity – 2-way privacy filter and optical clarity exceeds that of ordinary privacy protectors; offers a 75 percent transmittance rate when viewing straight on
Appearance - A smudge-resistant coating prevents fingerprints and facilitates cleaning
Ease of Use – A special adhesive makes application and removal a snap
Safety – Anti-shatter glass minimizes risk of injury if the glass is broken
ScreenGuardz® Pure™ Privacy will be available in June for the Apple iPhone 4/4S, iPhone 5, Samsung Galaxy S3 and Galaxy S4 at bodyguardz.com.
About BodyGuardz
BodyGuardz, founded in 2002, is committed to offering top-quality products and services at a reasonable price. The company prides itself in providing products, service and delivery that customers notice is a step above the rest. BodyGuardz includes the UltraTough clear skins full-body films available for thousands of devices; ScreenGuardz, screen protectors available in multiple film types; armor, which are custom-cut protectors featuring designs for device personalization; iPhone 4/4S and 5 fully customizable MyKase; The Garrison for iPad, iPad Mini and Kindle Fire; earjax premium ear buds and more. For more information, visit: bodyguardz.com/company.