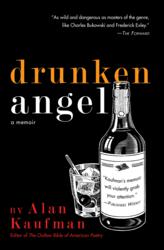 (PRWEB) May 22, 2013
The first time Alan Kaufman met Ginsberg, in the early '70s, the younger writer was an undergraduate at Queens College and heard that the poet would be reading at Columbia and rushed over to hear him. Later, Kaufman worked with Ginsberg throughout the '90s, occasionally traveling with him to conferences abroad. In Kaufman's memoir, Drunken Angel, he featured Allen Ginsberg as a mentor and friend.
"Beat Memories: The Photographs of Allen Ginsberg," which opens Thursday, May 23 at the Contemporary Jewish Museum in San Francisco, showcases more than 80 snapshots Allen took throughout his adult life. J Weekly recently featured an article about the Ginsberg exhibit and Alan Kaufman.
Alan Kaufman will be moderating a panel on Allen Ginsberg and the Beats at the Mechanics Institute Library in San Francisco on July 12th. He will also be conducting a "Poetry Shabbat" at Temple Sha'ar Zahav on July 13th.
Drunken Angel
By Alan Kaufman
Alan Kaufman has been compared to Jack Kerouac, Henry Miller, Hubert Selby Jr., and even Ernest Hemingway, another soldier turned writer. Drunken Angel drops like a sledgehammer: an exhilarating account of a life-long battle with alcoholism and a magnificent rise into sobriety that takes us from East Village park benches and reciting Kaddish in Dachau to the pages of The New York Times. Along the way, Kaufman shares revealing portraits of mentors and friends, including Allen Ginsberg, Kathy Acker, Barney Rosset, Anthony Burgess, Elie Wiesel, Isaac Bashevis Singer and Bernard Malamud. Now a leading voice of the children of Holocaust survivors, Kaufman delivers a lacerating, cautionary tale of a life wasted and reclaimed through love and storytelling. Listen to the audio book through Audible.