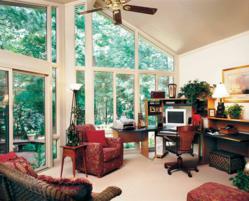 Sunrooms and patio enclosures become very comfortable spots for viewing gardens without exposing yourself to outdoor heat.
MIAMI, FL (PRWEB) May 22, 2013
People who have sunrooms or patio enclosures can take advantage of some of the things that scientists and counselors recommend for reducing stress, said Chris Noe, president of Venetian Builders, Inc., Miami. Venetian Builders custom-designs and installs aluminum sunroom additions, patio covers and screen enclosures in West Palm Beach, Fort Lauderdale, Miami, the Keys and other South Florida communities.
"Research cites things such as heat, work, financial problems, traffic and allergies as contributors to stress," Noe said. "But it also has found ways to reduce stress, including comfortable surroundings and exposure to natural beauty. As a builder, we can't shorten the commute, but we can make being at home a lot more enjoyable."
Building designers and managers have made a conscious effort to reduce stress in workplaces and hospitals, Noe said. "A lot of the aids they recommend can be employed at home, too," he noted.
Noe shares tips on the benefits of sunrooms and patio enclosures as they relate to these proven stress reducers:
Increasing indoor sunlight. The Whole Building Design Guide from the National Institute of Building Sciences on wbdg.org recommends that to reduce stress, building designers "provide maximum access to natural daylight and views to the outdoors."
Noe said: "They're not called sunrooms for nothing. Big windows and lots of them bring in ample sunlight and preserve treasured views. To maximize light in heavy shade areas, we can install giant skylights that are part of a roof system so sturdy it meets the Florida Building Code."
Air-conditioning: The U.S. Centers for Disease Control emphasizes on its bt.cdc.gov website that stress from heat is a killer. "The elderly, the very young, and people with mental illness and chronic diseases are at highest risk," the CDC says. Its top advice is to use air-conditioning.
Noe said: "At Venetian Builders we know how to integrate or augment air-conditioning systems so that sunrooms and insulated patio enclosures are climate-controlled. We also are adept at making ductwork inconspicuous when we design an addition."
Garden enjoyment: The University of Vermont Extension Service on its website uvm.edu notes that home gardens increasingly are employed as stress reducers. It suggests cooler colors, such as purples, yellows and blues, for stress relief and warmer colors, such as reds and orange, as accents.
Noe said, "Sunrooms and patio enclosures become very comfortable spots for viewing gardens without exposing yourself to outdoor heat. With custom design and the right window choices, garden views can be preserved and even enhanced."
Avoiding allergens. The website Calmclinic.com reports: "Allergy attacks likely make anxiety worse. … Anxiety makes allergies worse by altering the immune system and releasing more allergy causing hormones."
Noe said, "Air-conditioning with filtration can eliminate allergens from indoor air. And enjoying outdoor views without exposure to allergens is a real boost for allergy sufferers. When pollen counts are low and temperatures are mild, windows that open to proper screening bring in plenty of fresh air while keeping pests out, and fresh air itself is considered a stress reliever."
Controlling finances. The website ourstressfullives.com warns, "Stress over finances is often considered the number one cause of stress."
Noe said, "Relax. Aluminum framed additions such as 4 season rooms and patio covers cost less than comparably sized rooms built by traditional methods, partly because they go up in less time and require fewer inspections. With custom design, we can create solutions for every budget."
Venetian Builders offers no-cost in-home consultations and free estimates that are detailed and written. "Nothing reduces stress when expanding your home as much as a properly done estimate does," Noe said.
For more information call 866-596-2427.