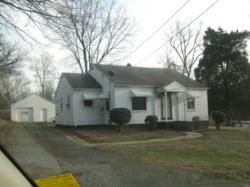 Our objective in launching RealEstateInvestor.biz is to be a resource to, especially, the small, independent real estate investor who doesn't have the resources of a hedge fund or listing on the stock exchange
Kernersville, NC (PRWEB) May 21, 2013
Since the first woman agreed to trade her cave for a larger one, investing in real estate has been one of the main means of wealth building in human civilization but, unfortunately, also the way to "lose your shirt" when something went wrong.
"Though the USA has just gone through one of the largest property price rises and falls decades, many real estate investors are now moving back into real estate, investing cautiously, but with the conviction that if they can stick to conservative rules and make the right decisions, the results will be good for themselves and for the communities they live in," according to David Amos of the newly launched RealEstateInvestor.biz.
Amos continues:
"Our objective in launching RealEstateInvestor.biz is to be a special resource to the small, independent real estate investor who doesn't have the resources of a hedge fund or listing on the stock exchange.
"While it's true that each state has it's own unique laws governing real estate, there are similar investing rules and approaches to deal-making throughout most of the country and our goal is to highlight some of those best practices as well as resources that the small, independent real estate investor can use to build personal financial security while rebuilding and improving their local communities.
"There are some financial hurtles many real estate investors have difficulty with and at RealEstateIncome.biz, we'll be offering solutions to some of the most common ones.
"However, for some real estate transactions, education in deal making strategy is definitely more important than having a lot of funds on hand, and we'll be steering readers to some of the best deal making strategies as well.
"We hope out new RealEstateIncome.biz website will provide solutions for many real estate investors."
About:
RealEstateIncome.biz and it's YouTube channel, RealEstateIncome, are operated by Lexis Global Marketing.com and focuses on news and education for the small, independent real estate investor.
Contact: David Amos
Lexis Global Marketing
Tel 3368177376
Email: incomethrurealestate(at)gmail.com
Kernersville NC 27284
About:
Lexis Global News (LGN) features current items of interest in business, real estate, technology, manufacturing, health and wellness, education, fashion, travel and life style.
LGM is a division of Lexis Global Marketing LLC.
http://www.lexisglobalnews.com/
Contact: Robert Allen
Lexis Global News
Tel 1-336-775-8617
Email: featurerseditor(at)lexisglobalnews(dot)com
Address: 931-B South Main St., Suite 154
Kernersville NC USA 27284