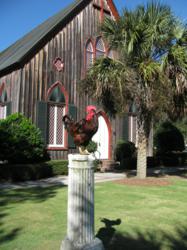 (PRWEB) May 22, 2013
From the start, Anna Siegler was determined to keep "Sista Eddie" alive. Born blind in one eye with a "scissor beak" that kept him from be able to eat on his own, the disabled baby chick was surely a goner until Seigler adopted him. Years later, her photo of the proud "southern bred" rooster is a winner in the USDA sponsored Cutest Bird Photo Contest.
"I set him on the pedestal outside of a charming church we passed in Bluffton, South Carolina and called to him," she recalled. "When he turned to look at me with his one good eye, I snapped the photo!"
The picture won the Contest for April in the category of "Cutest Bird." It will be featured on the Biosecurity For Birds website http://healthybirds.aphis.usda.gov until the middle of June when the May winners will go up.
A resident of Augusta, GA, Seigler selected the starving chick, a Rhode Island Red, from a flock being sold at a nearby barn. "At first we thought he was a girl," she said, "so we named him Sista. Six months later he started crowing and we realized we had a boy! We'd gotten used to the name, so we just added 'Eddie'." She also added a couple of hens – Henny and Minnie —to keep him company.
Siegler hand-fed the rooster twice a day as he grew strong and healthy. "He would follow me around everywhere and the hens would follow him. We got to be quite a parade," she said.
Sista Eddie died last year at age ten. "He had a very full life," she said, "He visited underprivileged children and people with disabilities as a symbol for them to 'Hold on to Hope.' He has a book about his life and even has his own web site: http://www.sistaeddie.com.
Seigler heard about the photo contest from Andy Schneider, the Chicken Whisperer, a national spokesperson for Biosecurity For Birds. "I was delighted to enter and thrilled to win!" she said.
The four month Cutest Bird Photo Contest began in March. At the end of each month, the winning photos will be posted on the Biosecurity For Birds' website. The winners will be considered for inclusion on the 2014 Biosecurity For Birds Calendar. For an entry form, contest rules and information visit https://web01.aphis.usda.gov/biobird_contest.nsf/contest_entry?OpenForm
The Biosecurity For Birds program, begun in 2004, is designed to educate backyard poultry owners and bird enthusiasts about highly contagious poultry diseases and other threats to birds. The program helps inform bird lovers how to prevent disease and tells them what to do if they suspect their birds are infected.
Media representatives may contact Joelle Hayden at joelle.r.hayden(at)aphis(dot)usda(dot)gov (301) 851-4040 or Pam Goldstein at pgoldstein(at)diversitymc(dot)com 973-377-0300, Ext. 14.