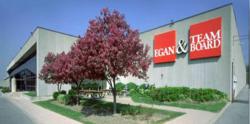 Blue Sky serves the Toronto rep firm like no other, and we're thrilled to have them represent Egan Visual.
Toronto, ON (PRWEB) May 23, 2013
Egan Visual, a leading designer and manufacturer of visual presentation products, for professional, education, healthcare, and other presentation and collaboration environments, is excited to announce a new relationship with Blue Sky Agency, under which Blue Sky will represent Egan Visual in the contract furniture market in Toronto at the GTA, serving new and existing Egan dealers, customers, and specifiers.
"Blue Sky is a new firm of industry veterans, and we're delighted to have them aboard in our home market," noted Sean Brown, President of Egan Visual. "Toronto is the fourth-largest and fastest growing market in North American presently, and Blue Sky knows it inside out".
Blue Sky has already hosting showings in the dedicated Egan Showroom in north Toronto, and is planning the opening of a showroom in the downtown design district. "As Egan is acknowledged as the industry leader in the design and manufacture of visual presentation products, Blue Sky is extremely proud and excited to have the opportunity to be their representatives in their home market," added Richard Hudon, Partner, Blue Sky Agency.
Blue Sky Agency is co-founded by industry veterans Richard Hudon and Doug Mills, who bring to bear a combined 50 years of contract office expertise to the Toronto market. http://www.blueskyagency.ca. For further information contact Richard Hudon 647-970-1129 or richardhudon(at)blueskyagency(dot)ca.
Egan Visual designs and manufactures a full range of visual communication solutions for presentation and collaboration environments including professional grade markerboards, tackboards, mobiles, lecterns, centers, and glass markerboards. http://www.egan.com