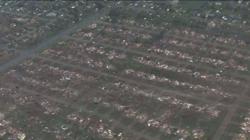 Our pleasures were simple - they included survival.
Dwight D. Eisenhower
(PRWEB) May 22, 2013
AncestorEbooks shares stories from survivors of tornadoes and other US disasters who have lost precious photos, documents and items beginning with a Facebook group, reported by U.S. News on NBCNews.com [usnews.nbcnews.com/_news/2013/05/21/18389821-bless-you-for-posting-facebook-group-reunites-tornado-victims-with-photos-documents?lite]
Kristen Sell, of WTEV 47 news, interviewed Daniel Garbelman, a survivor of Moore, Oklahoma. '"I saw the wall cloud come over the trees, I saw the debris coming at us, thought it was the wall cloud. It was actually the tornado, it was pretty big."
Garbelman and his wife, daughter and four cats all climbed into the bathtub to hide.  He says it lasted for about 40 seconds. Their ears popped as it passed.
"The thing that really got me was when things started hitting the house strong enough to shake the house."
"A couple houses down, that's where they started seeing fatalities so that's kind of ... sobering," said Daniel Garbelman. Briarwood Elementary school was demolished.
To assist people in the May 19, '13 Oklahoma Tornado, an Open Group on Facebook has created a page where, as stated at the top of the page, people can 'post any pictures or documents that blow into your yard in hopes of returning them to those impacted by the tornado.' As of the evening of May 21, over 100 photos have been posted.
The Group warns against posting private information such as SS#s or Banking information and have posted a remarkable amount of photos including school pictures, a baseball card, personal mail and a check from Luther, OK that is over 20 years old and the photo of a recovered kitten that is waiting at the OKC shelter.
'Most Americans have watched scenes from the Joplin, MO or the latest ones from Oklahoma that include shattered homes and emotional survivors', states AncestorEbooks' owner, Cristina Besendorfer, 'however it is the picking up after the news cameras have gone home where the true stories of survival are heard.'
On the Huffington Post 'Good News' page are 27,000 photos recovered from the May 2011 F-5 tornado which destroyed one-third of Joplin, MO and left 160 dead. [.huffingtonpost.com/2011/08/20/reuniting-tornado-victims_n_932115.html] These photos, being carefully sifted through by white-gloved workers in Carthage, MO, include 'photos of proms and weddings, baby's first day, proud soldiers in their uniforms.'
As stated by Mike Oliver in his AL.com article 23 May 2011, 'The strength of the tornadoes is evident in the swaths of rubble throughout the state. However, tornadoes have another, less publicized characteristic, that of sucking up debris, pulling it into the thunderstorm high above and sometimes sending that debris more than 100 miles away.'
USA.gov [usa.gov/Citizen/Topics/Family-Issues/Vital-Docs.shtml] has a page with links to help with replacing vital documents such as Bank Records, Birth, Marriage, and Death Certificates. However, that does not recover Baby pictures or photos of family and friends that have been lifted into the sky by 150 or 200 mile an hour winds.
CBS Money Watch published an article on January18, 2012 by Ray Martin, '12 things to keep in a safe at home, not in a bank' explaining that when put into a fireproof safe in the home important papers, passports, spare keys, wills, funerary directives, etc are quickly available to survivors.
AncestorEbooks.com also recommends keeping photos, family history documents, such as birth certificates, genealogy records, census records and proofs of citizenship at home in a firesafe box, such as those found at WalMart.com.
Just over a day later, more stories of survivors are being told. Stories like that reported by The New York Times, U.S. [.nytimes.com/2013/05/22/us/oklahoma-tornado.html?pagewanted=all] where Moore Oklahoma's Plaza Towers Elementary School once stood, 'Claire Gossett's teacher hurried her fifth-grade class into the hallway, then into a bathroom as a tornado that was more than a mile wide drew closer.'
AncestorEbooks' Cristina Besendorfer and Gayla Mendenhall join their prayers with that of the nation for the families of Oklahoma's EF-4 tornado. "Our hearts go out to those who were victims of the recent tornado in Oklahoma. We know that right now documents and photographs are the least of their worries, however, tomorrow will come and with it the need for insurance papers, titles, ..." Prepare for tomorrow by doing your best today.