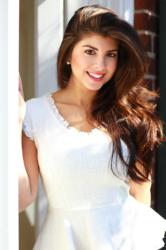 "My favorite response to the show is hearing, 'Wow! TV really needs a show like this.'"
NewYork, NY (PRWEB) May 23, 2013
WMCN and nationally-recognized production company Studio City has officially launched The Chelsea Krost Show, and it's an instant hit.
Hosted by Chelsea Krost, the show provides a platform for today's hot topics, trends, and issues that affect the Millennial Generation – those born between 1982 and 2002. Krost also hopes to bridge the communication gap between children and their parents, creating a more open, honest dialogue that viewers can relate to in their own lives.
She also hopes to dispel any misconceptions about Millennials, such as the Time Magazine cover story which refers to Millennials as cocky narcissists who are lazy. Krost wrote a blog on her web site responding to the Time article. To read it, click here.
The 22-year-old Krost's guests include everyday teens, as well as celebrities, to discuss entertainment and top news stories, plus social issues, such as beauty and fitness, fashion, finding a career, bullying, teen pregnancy, and same sex marriage.
In her debut episode, Krost decoded what text messages between guys and girls actually mean, breaking down some of the text language Millennials use. The show, which featured a guest from hetexted.com, received widespread positive feedback.
On the second show, Krost dispelled some of the myths about Millennials that they are self-centered. The show featured two Mlllennials making a difference - the founder of the Kensington Renewal, Jamie Moffit, and founder of Move for Hunger, Adam Lowy. The show also featured Xavier Lewis, who was a season three fan favorite of America's Got Talent. Lewis, who uses music for the good of the community, performed his hit song "Give Back."
Chelsea also did a show regarding Millennials and Money where she provided her viewers with great tips from GoGirl Finance on whether to save or splurge, as well as ways to budget smarter.
And, just in time for summer, The Chelsea Krost Show has also joined forces with fitness, fashion, and beauty gurus from Self Magazine – a publication that's on point with what's trending, what's in style, and provides "how to" remedies that readers can try at home. One episode focuses on the summer trends that you can wear from the beach to the bar, and also home remedies that are beneficial for your summer hair, skin, and lips, plus viewers get fitness tips to help them get the bikini body they've always dreamed of.
Krost is thrilled that her new show is an immediate success, creating a lot of buzz already.
"The response to the show has been so incredible, so positive, and so motivating. With all the encouraging words and great reaction to the first few episodes, it has propelled me that much more to make this eight week series the best it can possibly be!" she says. "My favorite response to the show is hearing, 'Wow! TV really needs a show like this.'"
Krost launched her communications career at the young age of 16, debuting Teen Talk Live with Chelsea Krost on WBZT 1230AM, making her the youngest AM radio host ever. Now a writer, producer, and radio host, she will now share her talents on her own television show. No stranger to TV, she has appeared on CBS, FOX, ABC News affiliates, and HLN TV. Krost has been a guest on mainstream shows, such as The Today Show, Anderson Cooper, and Wendy Williams.
WMCN has teamed up with Studio City which will help in the production and marketing of the show. Studio City has been marketing and managing the brand image of the nation's top-rated talk shows, including Live with Kelly and Michael, Katie, Ellen, The Talk, Jimmy Kimmel, among many others.
The Chelsea Krost Show airs on WMCN Thursdays at 7:30 p.m.
About Studio City:
Studio City is the largest, most award winning bi-coastal entertainment marketing agency in North America. In addition to hundreds of industry accolades, Studio City is the first and only marketing agency to win two Emmys for its on-air promotion. Since 1995, Studio City has been the creative marketing force behind dozens of television shows including 30 Rock, Parks and Recreation, The Biggest Loser, The Office, Law and Order SVU, Live! with Regis and Kelly, The Ellen DeGeneres Show, Dr. Phil, Judge Judy, Criminal Minds, South Park, Burn Notice, White Collar and NBC's 2010 and 2012 Olympics campaigns, including their Super Bowl launch spot. With the youngest, most diverse creative staff in the business, Studio City produces over 9,000 pieces of original creative each year. Throughout its 18-year history, Studio City has evolved into the one- stop agency for award winning launch campaigns, radio spots, sizzle reels, daily topical campaigns, network episodic promotions and syndicated episodic promotion
About WMCN44:
WMCN TV is an independent broadcast television station reaching nearly 3 million homes in southeastern Pennsylvania, central and southern New Jersey, and Delaware. WMCN is owned and operated by Lenfest Broadcasting LLC. WMCN is distributed by Comcast Cable, Verizon Fios, Directv, and Dish Network.
For more information, visit http://www.chelseakrost.com.
For interviews, and for more information, contact Robyn Stevens at prmedia(at)live(dot)com