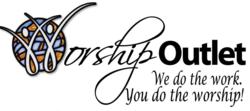 We have the truth from God, the Father, communicated and demonstrated by Jesus, the Son, and manifested through the power of the Holy Spirit.
Elkhorn, NE (PRWEB) May 22, 2013
Three in One and One in Three, Blessed, Holy Trinity! Just in time for Trinity Sunday, WorshipOutlet.com has released their worship resources for both the RCL and LCMS lectionaries for Trinity Sunday.
WorshipOutlet.com is an online ministry that provides creative and engaging worship resources that are both Biblical and relevant for the 21st Century. Their resources are perfect for busy clergy who are schedule-challenged with preaching weekly in a busy, rapidly changing world. Resources are customizable, allowing the user to change, delete, or add their own 'flavor' to make the services fit their congregations.
The Trinity service for the LCMS readings is "Jesus is the I Am" - The Holy Trinity based on John 8: 48-59. The service features comprehensive lists of contemporary worship songs to traditional hymns, from "One Thing Remains (Your Love Never Fails)" to the classic "Holy, Holy, Holy", plus extensive sermon seasonings for which WorshipOutlet.com has become so well-known.
The Trinity service for churches following the RCL readings is "The Trinity: Absolute Consistency: The Holy Trinity". Read the rich words of the descriptive theme: "On this special Sunday, we make it clear that that there is unity with one God in three persons. We have the truth from God, the Father, communicated and demonstrated by Jesus, the Son, and made known through the power of the Holy Spirit." The service proceeds to fulfill that promise through the Confession, Absolution, Prayers, contemporary worship songs, traditional hymns, and sermon resources all focused upon the Trinity.
WorshipOutlet.com goes beyond other worship resources out there by including full liturgies, worship song and hymn suggestions, illustrations, quotes, humorous stories, and video clip suggestions to captivate listeners and bring the message 'home'.
WorshipOutlet.com is a cross-denominational ministry providing creative, engaging worship sermons and resources that are both Biblical and relevant for the 21st century. Authors of WorshipOutlet.com products are ordained, seminary-trained pastors with backgrounds in Biblical studies.
Sermon Seasonings provided at the end of each service outline allow sermons to be customized to fit particular theological positions or service formats. They include a variety of resources commonly used in effective sermons:

Exegetical study of the Scripture passage of the day
Quotations
Illustrations
Humorous Quips
Video Suggestions
WorshipOutlet.com provides weekly services,sermon series, and other worship resources for leaders to use in weekly planning and implementation. Products include WorshipAlivePlus!, Sermon Series, and Special Services -- full worship services with complete sermon resources, media suggestions, liturgy, and both contemporary and traditional music. Simple Worship features sermon resources and music selections based on a creative theme for churches not using liturgy. NuParables convey the truth of God's Word in an experiential, unforgettable way.
WorshipOutlet endeavors to help reverse declining religious trends by providing culturally-relevant worship experiences, leading to increased attendance.
For more information about Worship Outlet or any of the product lines available, visit http://www.worshipoutlet.com.