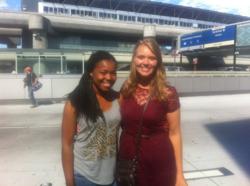 Coming to BalanceMe was one of the best decisions I've made as an individual, states former camper, Elisabeth
Asheville, NC (PRWEB) May 22, 2013
At a time when the nation grasps for a solution to the obesity epidemic BalanceME weight loss summer camp emerges with the top reported weight loss results among residential weight loss summer camps. BalanceME campers averaged 4.25lbs of weight loss per week.
"The BalanceME approach gives our a campers a full view of health by teaching nutrition and culinary education, providing activities with skill development, and focusing on self-esteem and motivation with our masters and doctoral level staff," says John Taylor, chairman of BalanceME's advisory board and Fit Coach featured on Style Network. "We pair our balanced approach with highly educated and professional staff, giving our campers the best opportunity for success in health and weight loss."
Studies show weight issues impact adolescents physically and emotionally. Obese youth are at a higher risk of cardiovascular disease, high blood pressure, diabetes, and are at a significantly higher risk to become obese adults. Studies show obese adults lead to increased risks of heart disease, stroke, and many forms of cancer. A renowned study in the Journal of the American Medical Association reports that obese children rate their quality of life similar to that of cancer patients.
With programs like BalanceME weight loss summer camps, overweight and obese youth have an opportunity to proactively take action against continued health issues associated with being overweight. Losing weight lessens health risks.
In addition to BalanceME's leading weight loss results, campers also see positive improvements in inches off their waist, gains in strength and cardiovascular endurance, improvements on their emotional assessments, and an overall increase in self-esteem.
"Coming to BalanceMe was one of the best decisions I've made as an individual," states Elisabeth, a BalanceME camper from 2012 who lost 40 lbs. and showed incredible success in improved self-esteem, endurance, and physical changes. "It truly has changed my life."
BalanceME weight loss summer camp locations are in Santa Cruz, California and Cape Cod, Massachusetts. Both locations open June 23 and runs for 8 weeks. Start dates are available every Sunday throughout the 8 week weight loss camp season. For additional information about enrolling in BalanceME's summer weight loss camps, please visit http://www.BalanceME.com or BalanceME at 800-975-0435.
BalanceME designed the ME Plan to Motivate & Educate on what medical research shows works for sustainable fitness, weight loss, and health success. Founded by professionals and guided by experts who have led some of the largest behavioral health, mental health, and treatment programs in the country, BalanceME is working to become the leader with a focus on improving an individual's overall health. BalanceME developed the BalanceME Health Score© to rate a person's overall medical, emotional, and fitness health status as well as show a person's progress towards health norms. BalanceME operates weight loss summer camps, local programs, and fitness programs for adults. For additional information please visit http://www.BalanceME.com or call 800-975-0435.