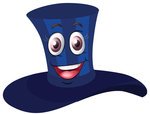 I hope this Crazy Chemo Hat Contest Fundraiser serves as inspiration to all the chemo patients to stay strong and know their friends love and support them."
Birmingham, Alabama (PRWEB) May 22, 2013
The Crazy Chemo Hat contest fundraiser is a unique fundraiser to benefit current chemo patients and United Cancer Survivors of America, Inc. nonprofit. The way the contest works is that friends of a current chemo patient get together to create a wild and crazy chemo hat for their friend. The friend does not necessarily have to actually be able to wear the hat but rather it is to serve as inspiration for them and give them the feeling of love and support from their friends. The hats are judged on 1. uniqueness/creativity 2. Inspiration and 3. hats must display the United Cancer Survivors of America, Inc. logo. Hats are to be colorful and fun. Signs or funny objects may be displayed on the hats and the wackier the better. Founder-President, Patricia Lee says, "When I was going through chemo my children gave me two very colorful, huge, funny face sunflowers. I kept them in my room and every time I looked at them I had to smile. It lifted my spirits but also, served as reminder of how much I was loved and supported. Those crazy flowers helped to give me strength when times were tough and reminded me of those who loved me and expected me to hang tough! I hope this Crazy Chemo Hat Contest fundraiser will serve to do the same for those currently going through chemo. I also hope it helps to bring the patients friends together to form a special bond."
The winners are the chemo patients, themselves. First place wins a $500.00 visa gift card. Second place wins a $300.00 Visa gift card. Third place wins a $150.00 Visa gift card. More details and registration is on the web site at http://www.unitedcancersurvivorsofamerica.org just click on the tab that says, "Current Contest Fundraiser." Deadline to register is June 3, 2013. This contest is open for chemo patients in the state of Alabama. Anyone from any other state who would like to hold the same fundraiser to help support the students and families in their state are welcome to do so and may contact administration for more details. Each state has to raise funds in order for the nonprofit to be able to award their scholarships and other monetary gifts to students and families of that state. See the mission statement for the nonprofit below.
United Cancer Survivors of America, Inc. is a unique nonprofit which offers two scholarship programs plus monetary help for cancer surviving families. They also will be holding an annual event to raise money for St. Jude Children's Hospital. Patricia Lee, Founder-President is a three time cancer survivor including Neuroblastoma, as a child, uterine tumor, and stage 3C breast cancer. She is the 2005 American Cancer Society Life Inspiration Award Winner for Alabama. Anyone may learn more about her and the program on their web site at http://www.unitedcancersurvivorsofamerica.org.