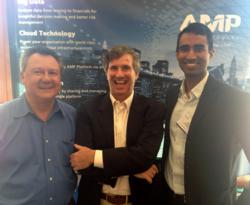 We have quadrupled our business and have had over fivefold growth in our headcount since launch.
San Francisco, CA (PRWEB) May 22, 2013
Since the official launch of the AMP Asset Management Platform in Dec 20, 2012, AMP Technologies has successfully delivered its suite of product and services to a wide range of companies including public REITs, major family funds and large private owners/managers of commercial real estate. On reaching such heights, Neel Naicker, Chief Executive Officer of AMP Technologies said "I am proud to announce that we have surpassed many of our targets since launch. We have quadrupled our business and have had over fivefold growth in our headcount. We have received overwhelmingly positive feedback from the marketplace and are poised for phenomenal growth this year."
At the Real Estate CFO Forum held earlier this month, AMP Technologies showcased its comprehensive suite of products and services. The AMP Platform was well received by some of the most influential executives and managers in the commercial real estate industry. Adithya Jayachandran who architected the AMP product said, "We utilize best of breed technology to provide a revolutionary platform for asset management. These tools will enable CFOs to achieve better property performance and increase their bottom line"
In two key sessions at the CFO conference, AMP executives including its Chairman – Sabeer Bhatia and COO - Tom Scott, touched upon key insights for companies to successfully leverage technology and real estate services. Cloud based products backed by strong implementation teams were mentioned as some of the most important factors for successful deployments.
AMP Technologies has delivered a number of innovative product releases since launch. The new releases include – Powerful portfolio analytics along with manager explanations and collaboration; Full document search supported by an easy drag and drop interface to easily manage files; Task management and communication tools; Decision support lease analytics and stacking plans. Services were delivered with high quality to clients including Lease Administration, Due Diligence and Finance and Accounting. So far, AMP has successfully processed over 2000 lease abstracts. The company is geared to continue its rapid pace of growth over the rest of the year.
For information on our products and services, visit the company website at http://www.theamp.com or contact us at sales@theamp.com.