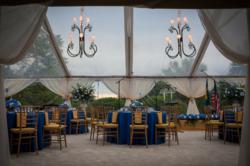 "There is a very important reason we always choose to go to Capital Party Rentals," says host Eva Hafström. "Capital knows us and understands what we need. I knew that the whole setting would be perfect, and of course, it was."
Washington, DC (PRWEB) May 22, 2013
Royalty is accustomed to a certain level of treatment. Certainly, the king and queen of Sweden never felt out of place while they visited the United States to celebrate their 375th anniversary of the arrival of the first Swedish to the country, then New Sweden and now Wilmington, Delaware. For the D.C. leg of the tour, Capital Party Rentals brought forth a high level of luxury to the soiree honoring the Swedish Royalty.
King Carl XVI Gustaf and Queen Silvia of Sweden were honored at a black-tie dinner in their honor in Washington, D.C. Capital Party Rentals, the D.C. division of Classic Party Rentals, created the royal feel the king and queen are accustomed to in their palace in Stockholm. The creative team behind Capital Party Rentals built a luxurious tent featuring lavish ornaments.
The Capital Party Rentals team beautified the residence of Swedish Ambassador Jonas Hafström and his wife Eva Hafström for the May 9th dinner. The prestigious gathering, which also featured Secretary of Homeland Security Janet Napolitano as an honored guest, was held in a tent at the ambassador's residence. Guests gathered underneath a clear-top tenting, which simultaneously created an indoor and outdoor sensation and featured wrought-iron chandeliers that cast their light on the royal blue tablecloths below. Blue and white flowers elegantly accented the space throughout.
Eighty guests enjoyed the opening remarks of the king as well as the beautiful melodies of the choir from The Swedish Church of New York, which entertained the guests with a handful of songs. An evening of delectable cuisine, prepared by chef Frida Johansson, made it truly an affair to remember.
"There is a very important reason we always choose to go to Capital Party Rentals," says host Eva Hafström. "Capital knows us and understands what we need. I knew that the whole setting would be perfect, and of course, it was."
Alongside the ambassador's social secretary Pia Anderson, Capital Party Rentals managed the event. In addition to the clear-top tenting and the old-world wrought iron chandeliers, Capital also provided dramatic sheer ivory draping along the tent perimeter, subflooring with beige carpet, tabletop rentals and full catering.
For the past three years, Capital has worked with the Hafstroms on numerous D.C. events. "When Mrs. Hafström first approached me and said for sure it was going to happen, I thought 'This is exciting – we are going to have a royal tent!'" says Gloria Collins, director of marketing and partnerships for Capital Party Rentals.
"The event was a great success. Our wonderful clients were very pleased, and it was an amazing compliment that Sweden trusted us with such an important event for their country," says Collins.
About Classic Party Rentals
Classic Party Rentals is the nation's leading full service event rental company. Classic services most major markets including Los Angeles, San Francisco, Chicago, Dallas, Phoenix, New York, and Pompano Beach. Its high-profile event roster includes more than 180,000 major sporting events, brand promotion tours, Hollywood awards shows, movie premieres, celebrity weddings, charity events and private social events annually. Locally, each Classic Party Rentals location is recognized as an integral part of successful holiday celebrations at home and at work, backyard weddings and birthday parties, school and church functions, local food and wine festivals, and many community service benefits. Classic Party Rentals is also a leading nationwide provider of tents, clear span structures, power, heating, air conditioning and sub-flooring. Ultimately, there is no need to lose sleep over the details. If you can dream it, Classic Party Rentals can deliver it. We do business under a number of different names, and customers are never disappointed by our Blue Diamond service or the strength of our partners will bring to events. For more information, please visit http://www.ClassicPartyRentals.com. "Your Events Are As Good as The Company You Keep."