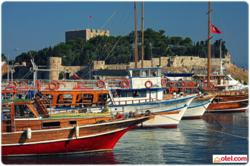 (PRWEB) May 23, 2013
Kusadasi means "bird island" in Turkish; because the shape of the peninsula looks like the head of a bird. This is one of the most popular tourist destinations in Turkey, on the Aegean coastline. The town is accessible easily from Izmir and Aydin. For people who are looking for a holiday during the hot days of summer, Otel.com offers some of its best rate hotels in Kusadasi.
"Kusadasi is full of events and festivals during the whole summer," says Otel.com CEO Metin Altun. He continues, "The beaches are full of tourists coming from all over the world. They enjoy the cool sea in those hot summer days. There are many choices such as the Lost Paradise Beach, Long Beach or Ladies Beach. Kids will also never get bored here, because there are many theme parks and water parks."
Metin Altun also mentions about their best rate hotels Kusadasi, Turkey. He advises to book in advance, because Turkey, especially Aegean district can be very crowded in the summers. "Kusadasi holidays are the ones one can never forget. People are astonished with the sea, the nature, the history of the town. We try our best to offer good deals to our customers in Kusadasi hotels." Metin Altun adds; "We choose some elegant hotels and offer them with very good rates. One of them is Alkoclar Adakule Hotel. This is a chain hotel with a private beach and also an outdoor swimming pool. The guest rooms come with private bathrooms, TVs and air conditioning; even some of them have a great sea view. The hotel guests can also enjoy delicious Aegean food at the Anadolu Restaurant on-site."
Another hotel which is mentioned by Metin Altun as the best rate hotel is Hotel Fantasia De Luxe. It also has a private beach and lush gardens with palm trees and various flowers. There are special treatments for children such as entertaining activities, games, competitions. There are also sports and fitness activities for adults. The five-star hotel is located in the middle of the ancient cities and close to shopping malls in the town.
About Otel.com
As a branch company of Met Global, Otel.com offers over 250,000 hotels all over the world. The website has over 20 currencies and languages for international users; this makes reservations more understandable for each specific person. Monthly deals and special offers can be seen on their website here: http://www.otel.com/