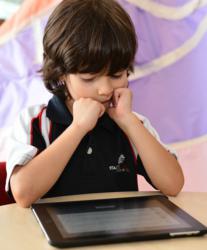 Not only do the kids enjoy it, but the World Education Games are a perfect representation of what Stamford stands for - international education using the most up-to-date technology.
Singapore, Singapore (PRWEB) May 23, 2013
Stamford American International School (Stamford) students proved themselves a force to be reckoned with as they competed in the World Education Games (WEGs). They consistently made their way into the top 50 and constituted higher participation than any other competing schools in Singapore, both international and local.
An annual event, the WEGs takes place over three days and focuses on the key academic areas of literacy, mathematics, and science. This year, from March 5 to 7, Stamford students participated in math and spelling competitions.
In these competitions, students are categorized based on age and then given various problems to complete. Participants used the Mathletics program for math and the Spellodrome program to test spelling. While the Mathletics program is designed to increase mental agility and math problem solving, the Spellodrome program develops students' spelling and word skills.
Each student competes in real time against up to three other students in his or her age group from around the world. This gives participants the ability to see how they compare to peers from diverse geographic regions.
Stamford was the highest achieving out of any participating school in Singapore. Of the top 50 students in each of the age groups in the spelling competition, over one third were Stamford students. There were similarly high statistics from the mathematics competition. For ages 7 and under, Stamford students took 28 of the top 50 spots. Of the top 10 classes for the math competition, Stamford accounted for 9 spots.
Even on an individual level, Stamford students did exceedingly well. The number one speller in Singapore in the 11-13 year-old age group was a Stamford student. In the mathematics competition, another Stamford student in the 11-13 year-old age group made the top 10.
This vast success is due to Stamford's well-developed and demanding academic programs. Stamford integrates the International Baccalaureate (IB) program with the rigorous American Education Reaches Out (AERO) standards.
Providing the best of American and International education, Stamford's academic program focuses on the development of the whole student and creates life-long learners through its emphasis on inquiry. Stamford uses these principles to create a strong language arts program, designed to help students acquire the ability to write and speak well while also gaining valuable listening and reading skills. Problem solving and mathematical computation skills are also strengthened by rigorous mathematics courses which are designed to encourage analytical thinking.
Stamford further emphasizes mathematics through a special supplementary math program called Math Enrichment. This Elementary School program is in addition to the core math classes and focuses on the AERO Mathematical Process of problem solving, reasoning and communication. The unique Math Enrichment program provides Stamford students with an extra opportunity to enhance their mathematical skills and increase their confidence. Stamford's success in the WEGs math competition is proof of the impact this program has had in giving Stamford students a competitive advantage in math.
Beyond the quantifiable results, the WEGs competition proved to be a great learning experience for Stamford's students overall. More than just math and spelling, it also allowed students to gain a broader perspective of the world. Students' competed against other students from various countries all over the world and Stamford teachers used this opportunity to spark interest in geography, review world maps and create an international dialogue.
The competition also gave students the opportunity to demonstrate their proficiency using the latest technology. Students used their 1 to 1 iPad or MacBook Pro devices to take the test online and employed the skills they've gained in Information and Communication Technology (ICT) class. According to ICT teacher, Mr. Ben Gavel, Stamford is likely to participate in the WEGs again next year, "Not only do the kids enjoy it, but the World Education Games are a perfect representation of what Stamford stands for - international education using the most up-to-date technology."