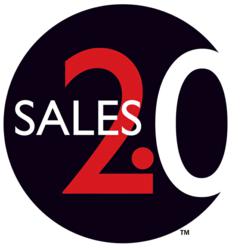 The Boston Sales 2.0 Conference will address the concerns of B2B sales and marketing leaders.
Santa Cruz, CA (PRWEB) May 29, 2013
Today Sales Dot Two Inc. announced that media passes are now available for the Boston Sales 2.0 Conference on July 15. The event will take place at the InterContinental Hotel. Interested parties should contact steven[at]salesdottwoinc[dot]com for more information.
A limited number of complimentary media passes will be extended to qualified candidates. Selling Power Editorial Director Lisa Gschwandtner says the Sales 2.0 Conference is an ideal forum for bloggers, journalists, and industry analysts to stay on top of the latest ideas and trends that affect B2B sales and marketing teams.
"As a contributor to Selling Power magazine and an active B2B blogger, I find the Sales 2.0 Conference consistently offers a wealth of compelling information about a wide variety of topics that impact sales and marketing teams," says Gschwandtner. "Each Sales 2.0 Conference is also a great opportunity to network with an audience of VP-level executives in Sales, Sales Operations, and Marketing." Selling Power is a media cosponsor of the event.
Representatives of Sales Dot Two. Inc. will welcome speakers from top analyst firms and B2B companies, including Aberdeen, Hewlett-Packard, and Introhive. Attendees will learn

how top companies run winning sales organizations,
new trends in sales and marketing,
the best tech solutions for sales teams today,
the results of the Sales 2.0 Impact Survey.
All conference registrants, including media attendees, will receive access to these bonus materials after the event:
2013 Sales Management Optimization: Key Trends & Analysis (CSO Insights Report)
The Sales 2.0 Impact Report (2013)
2013 Sales Leadership Priorities Report (Frost & Sullivan)
Complimentary white papers on sales, marketing, and management effectiveness
Select presentations/slides from speakers
All media are responsible for their own travel expenses and hotel accommodations. The room rate for this conference is $305/night + tax. This rate expires on 6/21/2013. To make a reservation, call the InterContinental Hotel at 617-747-1000 and reference the Sales 2.0 Conference.
More Info
@Sales20Conf #s20c
Sales 2.0 Conference
The Sales 2.0 Conference showcases leadership strategies and SaaS technologies that help B2B sales and marketing leaders create more competitive teams and drive higher profits. Attendees learn how to achieve measurable success in such areas as CRM use, sales and marketing collaboration, lead generation and pipeline management, social media for sales and marketing, analytics and metrics management, customer engagement, sales transformation and change leadership, and sales process improvement. Visit http://www.sales20conf.com to find upcoming events.