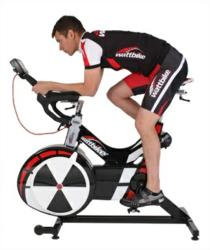 (PRWEB UK) 22 May 2013
David Lloyd Leisure, Europe's premier health, sports and leisure group, has now introduced Wattbike, the hi-tech indoor cycle trainer, at five locations around the UK with plans to roll out to other clubs later this year.
The latest clubs to offer Wattbikes to its members are Beckenham and Hampton, while clients at the group's new high street David Lloyd Studios in Putney and Winchester and its 81st UK club in Worcester were the first to try it out.
With its combination of real-time, scientifically accurate fitness data, the feel of riding a real bike and unique pedal technique analysis, Wattbike has proved popular with the world's top cyclists.
The recent launch of a new 2013 model incorporates an enhanced Wattbike Performance Computer and ergonomic triathlon style bars, delivering an amazing indoor cycling experience.
Personal trainers at each location have received advanced training from Wattbike in order to give members the support and knowledge required to achieve their personal health and fitness goals.
Paul Batty, David Lloyd Leisure's head of procurement, said: "We're always looking for ways to enhance our members' experience and support them in their goals. Wattbike is a high-quality, sophisticated training tool that suits their needs perfectly and is already proving very popular among our members and David Lloyd Studio clients. We very much look forward to introducing more Wattbikes at other clubs in our estate throughout the course of this year."
Richard Baker, sales manager for Wattbike, said: "We're delighted to be working with David Lloyd Leisure across the UK. In particular, we're very pleased to be part of their new David Lloyd Studio rollout from the inception of this new concept. Wattbike's presence in the largest premium brand within the health and fitness sector is testament to the quality of product and support delivered by our team."
ENDS
Contacts
For further information about this press release and photos, contact the David Lloyd Leisure press office on 01707 289833/4 or email press(at)davidlloyd(dot)co.uk.
Wattbike PR: Matt Moran | Tel: +44 7739 327100 | Email: mattm(at)wattbike(dot)com
Notes to editors
About David Lloyd Leisure Group
The David Lloyd Leisure Group operates 81 clubs in the UK and a further 10 clubs across Europe. It has over 440,000 members and employs 6,000 people. This includes an expert health and fitness team of over 1,800, while it contracts the services of more than 400 tennis professionals. Across all clubs, David Lloyd Leisure has over 150 swimming pools (of which half are indoor) and offers over 10,000 exercise classes per week. Every week 20,000 children learn to swim at David Lloyd Leisure and 14,000 learn to play tennis. Its racquets facilities are unparalleled with 700 racquets as well as 180 badminton courts and 140 squash courts. Additional facilities include health and beauty spas, club lounges with free Internet access, crèches, nurseries and specialist sports shops.
About Wattbike
The founders of Wattbike approached British Cycling with the idea to create an indoor cycle trainer which accurately measures a range of high-performance parameters; six years later the governing body was satisfied that the Wattbike met its criteria and today the Wattbike remains the first and only indoor cycle trainer to be endorsed by British Cycling.
Wattbike's on-board computer enables the accurate measurement of 39 performance parameters, including power, heart rate, cadence and speed. Combined with a fully customisable ride setup and the feel of riding a real bike, it provides the user with a highly effective and efficient power-based training solution. Wattbike also features the Polar View, a unique real-time pedal technique analysis which helps to identify and correct deficiencies in pedal stroke, bringing performance gains to every rider.
Today, Wattbike is used by the world's top cycling federations including Great Britain, Australia, United States and France, as well as professional teams and elite athletes in all cycling and triathlon disciplines. Other sports have also adopted Wattbike as a cross-training tool and is used by many Premiership football clubs, England Rugby Union, Rugby Football League, Formula One drivers, England Hockey, GB Rowing, Sailing, English Institute of Sport and UK Sport.