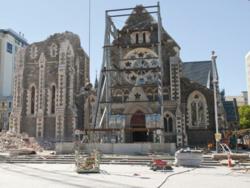 the Government says as many as 15,000 extra workers from plumbers to carpenters and electricians are needed
London, UK (PRWEB UK) 22 May 2013
Two years on from a devastating earthquake that razed much of Christchurch to the ground, the rebuild programme may still be in its planning stages but the vital labour force is gradually mobilising. Leading shipper to New Zealand, Anglo Pacific, is feeling the effects.
Jason Diggs, Anglo Pacific's Sales Director and a native of Christchurch himself, comments, "At an estimated cost of $40 billion, the City's rebuild is no insignificant task and something of this magnitude will not happen overnight – especially as up to 80% of the cost is being covered by insurance, an administrative challenge to say the least. For this reason relatively few workers visas have been issued for those specifically engaged in the rebuilding of Christchurch."
Jason continues, "According to Immigration New Zealand, as of 1 April this year less than 1,000 workers visas had been granted to those specifically working on the rebuild, 965 to be precise, 373 of them to Brits – around 40%. However the Government says as many as 15,000 extra workers from plumbers to carpenters and electricians are needed and, judging by the volume of removals enquiries we're receiving at Anglo Pacific, the signs are that plenty of Brits will be coming to Christchurch's rescue."
The calamitous 6.3 magnitude earthquake struck Christchurch in February 2011, just a few months after a previous shock had damaged roads and homes. The death toll rose to 185 and much of the City was destroyed including its cathedral, sports stadium and tallest hotel. 100,000 homes were damaged, 7,000 beyond repair and 70% of shops, hotels and office buildings have been demolished.
Sam Atkins, Senior Consultant from Hays, says, "As the rebuild programme takes shape, demand for construction workers and other associated professionals is fast growing, but the fact is that New Zealand does not have enough home-grown workers available to tackle the work required making migration essential. International recruitment agencies such as ourselves are working in overdrive to fill these skills gaps – either with foreigners or returning New Zealand expats. Statistics New Zealand say that Canterbury added 1,200 migrants for year-end February 2013 compared with a net loss of 3,750 people for year-end February 2012 in the wake of the quake."
However Immigration New Zealand is keen to highlight Canterbury's desire to prioritise the local workforce. Official sources commented, "Inevitably the rebuild is a political issue and there is a strong push in Christchurch to use local labour whenever possible. So whilst the rebuild is undeniably a huge task, and additional outside labour will most certainly be required, it would be wrong to suggest that this is currently a bonanza for migrant workers. Regarding the near 1,000 visas issued so far, there is no discernible pattern on occupations. The biggest category of UK migrant is currently Insurance Loss Adjuster but there are lots of categories appearing from architect to welder and CEO to concreter."
Immigration, in conjunction with other Government Agencies, has created the Christchurch Hub where employers can lodge their vacancies. It is then the role of the Hub to source New Zealand residents or citizens to fill those vacancies before looking overseas, saving employers the time and effort of advertising themselves. There is also a Canterbury Skills Shortages List which highlights just some of the skilled workforce required over the next ten to 20 years including engineers, draftsmen, telecoms experts, surveyors, electricians and glaziers. Meanwhile the Government is supporting young people to undertake training in the various trades.
Utilizing its vast network of contacts built over 35 years of trading, Anglo Pacific offers a dedicated job search service with applicants invited to register free of charge and without obligation via http://www.anglopacific.co.uk/jobs_abroad.htm. Completed registrations are forwarded to specialist recruiters within all the key disciplines.
Anglo Pacific offers job candidates a free 25kg air courier shipment (worth up to £150) for essentials required immediately at a new overseas home such as tools of the trade, personal documents, laptops and seasonal clothing. The offer applies to job candidates who select Anglo Pacific for their international removal to a value of £1,000 or more. The courier service is available to most countries and typically offers a transit of between five to seven days door to door. Just quote your unique job registration number when you book your removal to avail of the special offer.
Contact Anglo Pacific on 020 8965 1234, email info(at)anglopacific(dot)co(dot)uk or visit http://www.anglopacific.co.uk.
Peace of Mind Through Experience - Anglo Pacific is a specialist mover to the Southern Hemisphere and handles around 20,000 consignments of personal and household effects annually. A known market leader for Australia, New Zealand, the USA, Canada and South Africa, Anglo Pacific has been established for almost 35 years and has an unrivalled reputation for friendly, professional and reliable container shipping and international relocation services. What's more, as a fully bonded member of the British Association of Removers, clients' belongings could not be in safer hands.
-ends-
for further press information or photography please contact Sarah Drane on sarah(at)purplecakefactory(dot)com or call 00 34 607 564 726