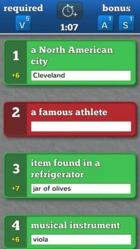 We wanted to create a fun social experience in the style of Scattergories™, but we wanted it to be more modern and have better replay value.
Downington, PA (PRWEB) May 22, 2013
Fridgecat Software, a premier indie game studio specializing in mobile development for Android and iOS, officially launched their latest game, Categorical, in the Google Play Store and iTunes this week. Categorical is an engaging social word game that challenges users to score big points by using a set of given letters to come up with answers to a list of categories.
"We wrote Categorical because we wanted to create a fun social experience in the style of Scattergories™, but we wanted it to be more modern and have better replay value," said Ezra Smith, CEO of Fridgecat Software. "The average 'give an answer starting with this letter' game gets boring very quickly -- you can only play so many games where the category is 'a vegetable' before you've exhausted all the good answers for a specific letter."
Users play timed rounds against friends, or random users, to see who can come up with the best answers. They can also review their opponent's round, and "challenge" the answers they feel may be incorrect. At that point, the player may choose to justify their answer, or agree that it's incorrect. After three rounds, the player with the most points wins.
"Personally, I love hearing people talk about Categorical games they've played recently. People tell me about the hilarious answer a friend played against them, and I'm always thrilled to see the game transcend their mobile devices and become a general topic of conversation," said Smith.
With Facebook integration, users can invite their friends to play, or start a game with a random player. Players can communicate with messages back and forth with opponents; a little friendly banter that makes the game more interesting. Finishing a game earns the player tokens to purchase new categories and activate power-ups, making Categorical suitable for hours of entertainment.
"At its core, Categorical is meant to be a fun social experience. It's cross-platform, so Android and iOS users can play games against each other. It's engaging for all skill levels, too: a novice player might be happy to think of an answer with all of the required letters, while more experienced players will use the most valuable letters to rack up big points," said Smith.
Categorical is currently available for free for iTunes and Android devices. For more information, visit http://www.fridgecatsw.com or download Categorical in the iTunes or Google Play Store.
ABOUT: FridgeCat Software is an agile game studio dedicated to creating high quality apps with stunning graphics, novel gameplay mechanics, and a delightful user experience. Our games are designed for both casual and serious players alike, offering ease-of-use for beginners and engaging depth of gameplay for veterans. We're also firm believers in cross-platform social experiences, creating games that can be shared with friends on both Android and iOS.