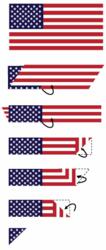 "Many times I go to a school, church or a patriotic event and gaze upon the stage only to find the event planner has placed the American flag on the audience's right, when it should be on the audience's left." - Kerry McCoy, president of FlagandBanner.com
Little Rock, AR (PRWEB) May 23, 2013
Memorial Day (May 27, 2013) marks the start of the patriotic summer decorating season which runs from May through September ending on Labor Day. Sandwiched in between are American Flag Day (June 14th) followed by July 4th, our nation's Independence Day.
In 2012, FlagandBanner.com introduced a number of indoor or outdoor home decorating kits for the patriotic season. (They are also great for military or patriotic weddings.) This year, a few new kits have been added to the lineup, giving people more choices and price ranges to choose from.
This time of year also seems to spark more than just fireworks. Our flag experts field dozens of calls a week about proper flag etiquette. Kerry McCoy, owner and president of FlagandBanner.com, says, "This time of year brings out the flag etiquette questions. 'How do I display my flag? What direction should it face if I hang it on my house?'"
Do you know the proper way to display an American flag off your porch?
The US flag always goes to the right. This concept can be tricky. When looking at your home or business from the street, the flag will look to be on the left because it is the flag's right. So, pretend you are the flag on your porch looking out at the street, now put the flag on your right. That is its proper place.
McCoy says, "Many times I go to a school, church or a patriotic event and gaze upon the stage only to find the event planner has placed the American flag on the audience's right, when it should be on the audience's left. If the flags are your responsibility, take a moment to educate yourself on their proper display."
Reminder: All American flags should be flown at half staff on Memorial Day from sunrise until noon. At noon, the flags should be raised to full staff until sunset. This is the only holiday that has this rule in the national flag code. The half staff until noon is to honor and remember those military men and women lost and the remaining full staff half of the day is to honor living veterans and military personnel for all they do to defend our nation. FlagandBanner.com experts have written many useful tips for flag etiquette and display like this that can be found for free on their website. You can even find pictures to help you understand exactly how a flag should be displayed and even how to place flag magnets on your car correctly.
FlagandBanner.com has been in business for more than 38 years and truly is more than just a flag store. Their experts can provide advice, custom design, installation tips and guidance and are always available after the sale to answer any questions.