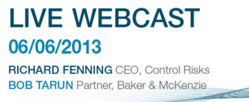 Managing corruption risks in unfamiliar frontier markets is a real challenge, particularly when it involves interaction with agents, joint venture partners and other third parties.
London (PRWEB UK) 22 May 2013
Managing these risks has become more of a business imperative in recent years with the introduction of new, tougher legislation which is being more rigorously enforced. An unwillingness to pay bribes or facilitation payments may mean frustrating delays, increased costs and even lost business.
On this webcast, experts from the fields of risk management and corporate compliance will offer unique insights into the challenges of both mitigating corruption risk and managing internal investigations.
Richard Fenning, CEO of Control Risks, and Bob Tarun, Partner at Baker & McKenzie, will discuss how organisations can manage the threat of corrupt practice, comply with anti-corruption legislation, create robust anti-corruption initiatives and remain competitive and successful.
Richard Fenning commented; "In our experience, organisations are generally comfortable implementing the necessary controls to ensure compliance with anti-corruption legislation close to home in familiar markets. But they are less clear about how they do this when operating in less familiar but often attractive frontier markets. This is particularly the case when it involves interaction with agents, joint venture partners and other third parties."
Bob Tarun concurs; "Most of the investigations we handle have a significant international element. Striking the right balance between global processes and local commercial realities remains a major challenge when implementing anti-corruption initiatives internationally. Getting it wrong can open up organisations and their employees to serious legal redress. This could include potential massive fines, disgorgement of profits, government debarment and suspension, jail for executives and country managers - and the enormous cost of the distraction of senior management from pursuing core business goals."
The webcast will feature an informal discussion between the hosts followed by an open question and answer session. For more information about the webcast, please contact events(at)controlrisks(dot)com or register for the event here.