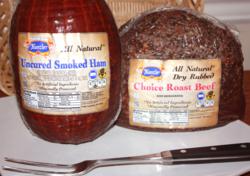 Quote from Chris Kunzler III, President of Kunzler and Company: " My great grandfather would be proud to know we are once again re-producing some of his personal favorite recipes like he did when he founded the business in 1901."
Lancaster, PA (PRWEB) May 23, 2013
Kunzler & Company, celebrating 112 years in business is a leading manufacturer of fine meat products including hams, bacon, franks, pretzel dogs, luncheon meats, and specialty items, is introducing its newest product(s): All Natural Deli Ham and Deli Roast Beef.
A new product for Kunzler & Company, the All Natural Deli Ham and Roast Beef is joining the product mix of Kunzler's extensive line of deli meats targeting today's busy consumer looking for the "No Nitrate, No Nitrite added" claim. They are produced using only the freshest, high quality meats and premium "All Natural" ingredient .
The Kunzler "Uncured Choice Roast Beef" is made simply by rubbing only with salt and pepper then baking to a medium rare temperature. Known up and down the East Coast for their quality hams, Kunzler has developed an "All Natural" cure for the ham that delivers the flavor that their consumer is accustomed to buying.
Founded in 1901, Kunzler & Company, Inc. is a 4th generation family business headquartered in Lancaster, PA. With three manufacturing facilities in Central PA, Kunzler & Company has earned its reputation as a leading manufacturer of more than 500 meat products. Today, Kunzler's products can be found in supermarkets, delicatessens, convenience stores, schools, theme parks, sports complexes, finer restaurants, and quality conscious kitchens throughout the United States. For more information on the complete product line visit Kunzler.com