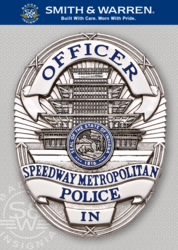 "The new badges had to be durable, lighter weight and come from a company that could offer fast delivery as well as a comprehensive warranty. We chose Smith & Warren because they met all of these needs"
Captain Jason Dierdorff Speedway Police
White Plains, NY (PRWEB) May 24, 2013
Ten years ago, Speedway Police Department commissioned the design of a new custom badge for their department. After evaluating sources, they chose a manufacturer that offered them a full custom badge with low initial costs. The badge was designed as an oval shield with a depiction of the new Indianapolis Motor Speedway Pagoda as the focal point. The department really liked the overall design, but over time they experienced issues with delivery and durability. They also saw room for improvement in the way the design was converted into a real badge. In 2011, they started thinking about redeveloping the badge as well as seeking out a new manufacturer.
The new badges had to be more durable, lighter weight and come from a company that could offer fast delivery as well as a comprehensive warranty. In addition, the new badge program had to be cost effective. The department approached U.S. Uniform & Supply in Indianapolis to assist in selecting a badge manufacturer. "We chose Smith & Warren because they met all of these needs," said Captain Jason Dierdorff of Speedway Police.
Captain Dierdorff and the team at U.S. Uniform & Supply worked with Lee Galperin and the development team at Smith & Warren to design the new badges. Lee and his team proposed a new badge program that would achieve all of the department's goals and then some. Captain Dierdorff described the process as "Flawless." "There was a great level of communication between myself and company representatives. This occurred throughout the design phase, and still happens now during the process of making new orders," says Captain Dierdorff
The overall design of the new badge is similar to the original badge. It consists of an oval shield with a highly detailed 3-D depiction of the racing Pagoda at the Indianapolis Motor Speedway. The new badge is constructed as a single piece instead of applied panels. Single piece construction means improved durability, a more consistent appearance, and less excess weight.
The Pagoda at the center of the badge is a symbol that Speedway Police provides public safety for the "Racing Capital of the World." The Indianapolis Motor Speedway hosts the Indianapolis 500 each year, the world's largest single-day spectator sport. Over 200,000 people are expected to attend this year's event on May 26. Speedway Police Department is the lead agency for a public safety committee made up of local, state, and federal partners, as well as upper level management at the Indianapolis Motor Speedway. Members of the group work year round to provide the highest level of safety for race fans from around the world.
If your department is interested in redeveloping an existing design or developing something completely new and unique, please contact your Smith & Warren dealer or contact us directly for a consultation. Our development team, in coordination with our extensive network of dealers, will work with your department to develop a truly unique and exquisite badge that will be worn with pride.
About Smith & Warren®
Smith & Warren® is a leading U.S. Manufacturer of custom badges, uniform insignia, accessories, and a certified manufacturer to the Institute of Heraldry for the manufacture and supply of official U.S. Army badges and insignia. Smith & Warren has been proudly manufacturing uniform badges and insignia in the United States since 1925, and is the most technologically advanced badge manufacturer in the United States. The finest materials are combined with cutting edge manufacturing technology to produce a product that can be worn with pride. Every Smith & Warren® badge is manufactured within 3 Weeks and is the only badge that comes with a Full Lifetime Warranty.
To learn more about Smith & Warren®, visit http://www.smithwarren.com. For media inquiries, logos, graphics and badge images, contact Josh Medeiros, Director of Business Development at Josh(at)SmithWarren(dot)com, Phone: 914-598-0122, Fax: 914-517-2782.