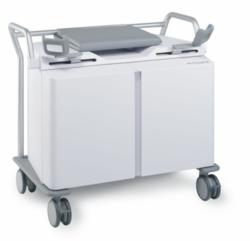 "I can say that all the staff absolutely love the [Wedgie] product! It is a great invention that I wish I'd thought of years ago. Simplicity and comfort in action!"
Nancy Pate RN
Asst. Nurse Mgr., ED
Onslow Mem. Hosp.
Jacksonville, NC
New York, NY (PRWEB) May 24, 2013
General hospitals are often not designed to treat women in gynecological distress quickly in the Emergency Room. But even tougher is producing a quality exam before getting to the Emergency Room.
TSK Products works with hospitals to provide faster exams in the ER for female patients needing GYN exams. The company sells a multifunctional cart, the GynoCart, which turns any hospital room into a GYN exam room. Hundreds of hospitals across the country using the GynoCart have created mobile exam rooms, reduced their waiting times, and improved the quality of care provided to women.
That's all well and good if a woman in need can get to an ER. The further away the hospital is the less likely healthcare will be delivered in a quality manner required to produce the desired outcome. In developing or poor countries or among poorer segments of the population, performing a quality GYN exam right away, possibly in the field, can mean the difference between life and death, good care and poor. To replicate the results that TSK Products produces with the GynoCart, the company developed a pelvic wedge that can be carried to the woman's bedside and used to position her properly for the exam. This allows the caregiver to quickly determine the appropriate course of action. In both Haiti and the Dominican Republic, charitable organizations are providing timely care at a quality level previously unattainable before the WEDGIE™ was available. The goal faster and better exams, resulting in safer pregnancies and fewer birth complications, now seems within reach.
In the US, prosecutor's offices and nonprofit women's rights organizations around the country have added the WEDGIE™ to their tool kits when responding to a sexual assault case. Timely and accurate specimen collection is key to their investigation and the WEDGIE™ assists with both. This month, a nonprofit group of nurses in Louisiana acquired 20 wedgies for their field examiners to perform sexual assault exams onsite, quick and comfortably.
The multifunctional GynoCart and the lightweight, portable WEDGIE™ are important tools in the larger picture of Women's Health issues. As better care is envisioned and delivered, women can have the healthcare we all assume is available to everyone everywhere.
About TSK Products
TSK Products designs, sells, and manufactures products that enhance safety in healthcare. Employing engineering principles in processing, organization development ideas in implementation, and microbiological science in infection control, TSK Products works closely with hospitals to make the workplace and patient interface safe.