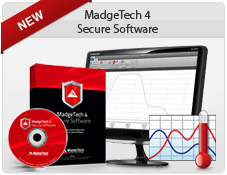 Warner, NH (PRWEB) May 22, 2013
The MadgeTech 4 Secure Software offers many features including enhanced user management with multi-level access, audit trails and electronic signatures. Users will save time and effort while keeping data secure with auto logger detection and linked data within graphs and data grids. Making a change to linked data can be configured to automatically synchronize multiple views.
New features in MadgeTech 4 Secure include configurable software templates. Templates allow the user to create and save a copy of the settings programmed for a specific data logger. Set it up once, use it forever. This new version also includes the addition of memorized user setups to retain the preferred arrangement and positioning of windows that are most efficient for your application or workflow.
Data analysis has been made easy in MadgeTech 4 Secure with drag and drop mapping of multiple data sets, great for side by side comparison of data for each logger. Working with data directly within the software is enhanced by the new math channels and statistics, allowing the user to quickly perform in-depth analysis of individual or multiple data sets. Let the computer do the work for you!
MadgeTech also offers on site IQ/OQ/PQ services and support to help users validate their data logging system. MadgeTech staff is trained and knowledgeable with the standards and protocols needed for 21 CFR Part11 compliance, and we are here to help. MadgeTech offers the complete compliance solution!
MadgeTech 4 Secure Software Validation Package is priced starting at $1400.00 USD for a single license with tiered pricing options available for as low as $980.00 USD. For more information please visit http://www.madgetech.com or call (603) 456-2011.