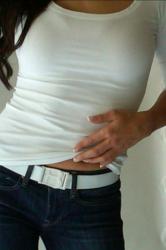 Being cognizant of why your weight may fluctuate will make it easier to control.
(PRWEB) May 23, 2013
From chronic weight issues to water retention, weight fluctuation affects everyone. Experts at Beltaway Belt, a leading creator of men and women's adjustable flat belts, offers tips on managing weight fluctuation from a wardrobe perspective.
There are multiple reasons why individuals suffer from weight fluctuation. From consuming too much sodium to storing more carbohydrates, body fat is rarely the culprit, according to an online article written by Cynthia Sass, MPH, RD which was published on Shape.com. Body weight can rise and fall from day to day or even hour to hour.
"You can't get yourself too crazy." says President Jaclyn Kaufer. "Being cognizant of why your weight may fluctuate will make it easier to control."
Managing weight fluctuation from a wardrobe perspective can be expensive, not to mention can be a not-so-fun shopping experience. Kaufer and experts at Beltaway Belt have three tips for managing weight fluctuation and how individuals can better their wardrobe without spending much.
1. By being aware of your body's tendencies when purchasing clothing will help eliminate certain frustrations. What fits you just right in the dressing room may not fit you too comfortably in the morning when you get dressed.
2. Also keep in mind that certain fabrics have a tendency to expand during the course of daily activity. This is especially true for denim. Beltaway Belts' elastic design and easy adjustability while wearing, eliminates that problem and always ensures a perfect fit.
3. Stop buying fitted belts. Beltaway Belts offers an adjustable flat belt that comfortably contours to the body and helps get rid of belt buckle bulge.
Individuals that constantly deal with weight fluctuation will have an easier time dressing in clothes that not only complement their figure, but will help eliminate excessive spending costs.
For media inquiries and more information, contact Mark Kaufer at mark(at)beltaway(dot)com.
About the company:
Beltaway Belt is a leading fashion necessity for men and women. Created by fashion veteran and entrepreneur Jaclyn Kaufer, Beltaway is a flexible, comfortable, adjustable, flat elastic belt that moves with the individual and gives them the security of keeping everything in place, all while eliminating any bulky belt buckles. Beltaway is available in a range of neutral colors and is easy to pack and travel with and ships worldwide. To see what Beltaway Belt can do for you, visit http://www.beltaway.com.