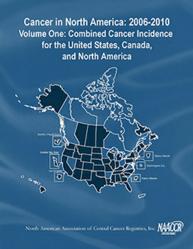 Advances in early detection, care and treatment depend on the cancer surveillance community.
Springfield, IL (PRWEB) May 23, 2013
Today's release of Cancer in North America (CINA): 2006-2010 provides researchers and health professionals with the most detailed look of how cancer is affecting the continent's population.
"We are dedicated to producing the best data possible and for the first time, we are now able to include information about cancer stage," said Betsy Kohler, Executive Director of the North American Association of Central Cancer Registries (NAACCR), adding stage describes how far a cancer has spread at the time of diagnosis or if it has remained localized. "Access to stage data gives states and provinces the tools to establish baselines and be in a better position to monitor cancer control efforts."
Staging information is critical because it also dictates treatment plans and how best to manage the disease. By including stage information on five common cancers – lung, colorectal, cervix, breast and prostate cancer – by state/province, this CINA report marks the first time these data will be available in one place.
"Advances in early detection, care and treatment depend on the cancer surveillance community," said Glenn Copeland, Director of the Michigan Cancer Surveillance Program and a CINA editor. "Without the commitment of population-based registries in Canada and the United States, it would not be possible to collect timely, complete and accurate data from which to base new approaches."
For over 20 years NAACCR members have gathered and analyzed population-based data, then shared those results with the research community and with those who manage the cancer system. For this year's CINA report, data were supplied by 69 central population-based registries – 56 from the United States and 13 from Canada – which reflects 98% population coverage in the US and Canada.
Highlights from CINA 2006-2010 include:

Over seven million new cancer cases were diagnosed between 2006 and 2010 across North America.
The most common cancer for males is prostate and breast for females.
For both sexes, lung and colorectal cancers ranked second and third.
Over 25% of breast cancers in the US are diagnosed as late stage. This percentage is over 35% for black women diagnosed between 2006 and 2010.
Based on seven selected provinces, cancer incidence rates were slightly lower in Canada than the US, especially for prostate and female breast cancers. However, colorectal cancer rates were higher in Canada than the US in 2006-2010.
Produced annually, the CINA report provides the most current cancer incidence and mortality statistics for the United States and Canada. It also serves as the foundation for such publications as the American Cancer Society's Cancer Facts & Figures and the US Annual Report to the Nation.
About NAACCR
Established in 1987, the North American Association of Central Cancer Registries, Inc. (NAACCR) is a collaborative umbrella organization for cancer registries, governmental agencies, professional organizations, and private groups in North America interested in enhancing the quality and use of cancer registry data. Its goal is to set standards and build consensus for the collection of uniform cancer data across the continent. All state and provincial central cancer registries in the United States and Canada are members