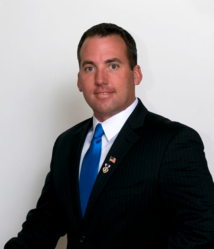 Walter Jones voted for the war - a war that I fought in, a war where I watched my friends get injured and die - just to get re-elected
Jacksonville, NC (PRWEB) May 23, 2013
Jason R. Thigpen, a veteran of the second Iraqi War and challenger for the Republican primary for the 3rd District of North Carolina, calls on his opponent Walter B. Jones, Jr. to resign his seat immediately after Representative Jones admitted to voting in favor of the war in order to win re-election.
Walter Jones, a U.S. Congressman since 1995, until recently was best known as "The Freedom Fries Guy" for introducing his very pro-war resolution to change the name of french fries to "freedom fries" in the wake of France's lack of support for U.S. military action in Iraq. Jones is now quickly becoming known for his fervent anti-war stance.
In a March 30, 2013 article in the Carteret County News-Times, Jones tells a reporter that just before the vote he told his chief of staff that he did not believe in the war, he did not believe the reports that Iraq had weapons of mass destruction, nor did he believe that Saddam Hussein was in any way responsible for the 9/11 attacks. "But because I was more concerned about the next election, I voted for the resolution," Jones said, knowing that voters in his district overwhelming supported the war.
"For any incumbent to say they only voted for the war because it was popular and would help them get re-elected is disgraceful," Thigpen says. "Walter Jones voted for the war - a war that I fought in, a war where I watched my friends get injured and die - just to get re-elected."
Thigpen says he entered the race before Jones ever admitted his pro-war vote was due to his concern over re-election. "I entered this race because I believed it was time for a change. That career politicians are part of the problem in Washington," Thigpen says. "However the more I hear Jones talk about his regret for the vote, the more I believe his actions not only do not merit re-election, but Representative Jones does not deserve to represent the soldiers and their families that failed to support for even one more day."
Walter Jones represents a district that is home to Marine bases Camp Lejeune and Cherry Point and has among the highest military and veteran populations in the nation. Thigpen says that the military and veteran communities are an important part of the 3rd district and he will be there to truly represent them. "I will take any vote that impacts our military very seriously. I might not always vote for what is popular, but as a combat veteran, I will never vote in favor of military action where I do not believe it is justified or necessary for national security," Jason said. "Our elected officials owe our service members at least that much," he added.
Jones has become an outspoken critic of all military action, and has recently called for the impeachment of President Obama for taking military action in Syria without Congressional consent. "Representative Jones is the last person who should be throwing stones when it comes to talking about consent of Congress for military action," Thigpen says. "I can have respect for someone who is against the war. I served this country to protect Americans' right to hold and voice those opinions. But for Jones to be criticizing anyone after he voted for to send troops to war only get re-elected seems hypocritical to me, especially as we near Memorial Day."
As part of his anti-war crusade, Represnetative Jones is talking about how sorry he is for his vote to support a war he did not believe in. Jason says that is not enough. "We elect our representatives with the hope that they will make the tough vote. Jones couldn't make the tough vote. Jones did not come out against the war until the war unpopular. It is great the Jones is now doing what he thinks is right, but for me, and for the many that served and didn't make it back - it is too little too late."