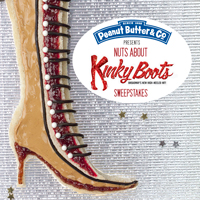 New York, NY (PRWEB) May 28, 2013
These boots were made for eating! Peanut Butter & Co. is partnering with the hit Broadway musical Kinky Boots to create the Nuts About KINKY BOOTS Sweepstakes.
From Tuesday, May 28, 2013 to Friday, July 5, 2013, consumers are invited to vote for their favorite PB&J Kinky Boot at http://www.NutsAboutKinkyBoots.com or http://www.facebook.com/PeanutButterCo for a chance to win two tickets to see Kinky Boots on Broadway and a year's supply of peanut butter (50 jars). The sweepstakes showcases 24 open-faced PB&J sandwiches inspired by boots worn in the musical using a variety of embellishments, including black licorice laces, sugar pearl studs, and edible glitter. There will be six week-long entry periods, during which winners will be randomly selected, totaling six winners by the end of the promotion period.
With 13 Tony nominations, Kinky Boots is the most Tony-nominated Broadway show this season. The musical is the creation of Grammy Award-winning pop icon Cyndi Lauper (music & lyrics) and four-time Tony Award winner Harvey Fierstein (book). Kinky Boots follows Charlie Price (Stark Sands), who suddenly inherits his father's financially destitute shoe factory. As he attempts to save his father's company and legacy, Charlie finds inspiration in Lola (Billy Porter), a drag queen performer in need of sturdy – and kinky – boots. Directed and choreographed by Tony Award-winner Jerry Mitchell, Kinky Boots debuted on Broadway in April 2013 and is being hailed as "CAUSE FOR CELEBRATION, this spring's MOST FABULOUS NEW MUSICAL!" (Entertainment Weekly).
"Kinky Boots has a wonderful message of finding your passion and accepting those that are different than you, but the thing I love most about it is the exciting entrepreneurial story of a business owner who finds inspiration in an unusual place and uses hard work, collaboration, and passion to save his business," said Lee Zalben, Peanut Butter & Co.'s Founder & President. He continues, "And it just happens to be the most fun you can have on Broadway. We're so proud to be working with such a triumph of a show!"
The sweepstakes will be promoted via Peanut Butter & Co.'s social media channels and in select stores in the New York metropolitan area on specially marked jars of Peanut Butter & Co. peanut butter. There is no purchase necessary to enter the sweepstakes.
About Peanut Butter & Co.
Peanut Butter & Co. began in 1998 as a cozy little sandwich shop in Greenwich Village, NYC and has since become one of the fastest growing natural/specialty food companies in the US. The Company's ten varieties of all natural, flavored peanut butter are available in over 15,000 supermarkets and specialty retailers, and Dark Chocolate Dreams, the Company's chocolate flavored peanut butter, is the #1 selling all natural chocolate nut spread in the country (Source: IRI). Peanut Butter & Co.'s products are made exclusively from USA-grown peanuts. Find out more at ilovepeanutbutter.com and Facebook.com/PeanutButterCo and Twitter.com/PeanutButterCo.