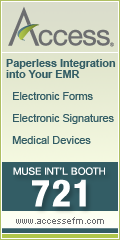 We're looking forward to switching to Access for our e-forms, labels and wristbands, and are confident in the system's integration with MEDITECH. We've been satisfied with the quick responses from Access and their willingness to meet our unique needs.
Sulphur Springs, Texas (PRWEB) May 23, 2013
To deliver the best possible service to patients, GPs and hospital staff, HCA International, the world's largest private hospital group, is committed to using the latest technology. The organisation realised it could increase efficiency by switching to a more flexible invoice printing system.
HCA International found that using its existing suite limited financials staff to one font, and there was no way to customise invoices to show the logos and colour schemes of each facility. In addition, the company was relying on preprinted invoices, which were discarded if a design element changed, driving up costs.
HCA International decided to partner with Access, a leading provider of electronic patient signature, electronic forms and clinical data bridge solutions, to overcome these challenges.
"With the Access system we will be able to easily customise invoices to each of our hospitals with their logo and colour scheme within the same print run," said Wilhelm Pettersson, application team lead at HCA International. "We hope to achieve cost savings by printing on demand instead of storing mass-printed invoice paper, and plan on extending the system to our GP services."
HCA International also plans to apply an Access solution to patient-focused documentation, generating bar-coded e-forms, wristbands and labels and outputting preadmission letters to patients as needed.
"We're looking forward to switching to Access for our e-forms, labels and wristbands, and are confident in the system's integration with MEDITECH," Pettersson said. "We've been satisfied with the quick responses from Access and their willingness to meet our unique needs."
About HCA International
HCA Inc. is an American company, also known as Hospital Corporation of America, and the world's largest private hospital group. HCA's private hospitals in London are the company's overseas division and you are able to benefit from their world-renowned experience and expertise. Each of the private hospitals in London is a Centre of Excellence where you will receive the highest standard of care delivered by dedicated medical teams. Learn more at http://hcahospitals.co.uk/
About Access
Hundreds of hospitals worldwide use paperless Access solutions to integrate e-forms, electronic patient signatures and clinical data into EHRs. Access helps improve care, eliminate financial and environmental costs and enhance patient safety and downtime planning initiatives. See Access solutions in action at MUSE International Booth 721 and learn more at http://www.accessefm.com