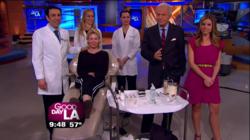 Los Angeles, CA (PRWEB) May 24, 2013
According to a May 15, 2013 Time Online article titled "Looking Good on Facebook: Social Media Leads to Spikes in Plastic Surgery Requests," a number of current studies indicate that there is a growing prevalence of facial plastic surgery and cosmetic improvements among people that consistently utilize social media. These people have become keenly aware of the need to look good online and on their social profiles on sites such as Facebook, Google and even Skype's video chat feature (Go to goo.gl/WO0PR).
"According to the article this trend is particularly noted among corporate executives or those that have high profile jobs in the eye of the public," says Dr. Simon Ourian, Medical Director of Epione Beverly Hills. "I have numerous high-profile clients who may have their photo taken at any time and have no control over where these photos might end up being posted."
According to the article, while regular attention to social media creates a feeling of connection, there are people who might have feelings of loneliness and envy triggered by scanning the social media pages of friends. These same emotions may be what's driving the reported 31% increase in cosmetic surgery requests due to how people want to present themselves online.
"I foresee this trend will continue to grow," says Dr. Ourian. "Interestingly, patients that undertake their research through social media and various internet tools before they determine which doctor to go to have reported good experiences with their plastic surgery."
Dr. Ourian has been a pioneer in laser technology and non-invasive aesthetic procedures including Restylane, Juvéderm, Radiesse and Sculptra. These treatments are used for the correction or reversal of a variety of conditions such as acne, acne scars, skin discoloration, wrinkles, stretch marks, varicose veins, cellulite, and others. More information about the impact of social media on plastic surgery can be found on Epione's website.