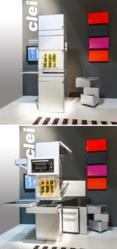 New York, NY (PRWEB) May 22, 2013
Italian furniture manufacturer Clei s.r.l has announced a unique and exciting new kitchen design at the 2013 Salone Internazionale del Mobile furniture fair in Milan. As the established experts on space saving furniture, Clei unveiled the compact Ecooking kitchen, a design that offers a solution to reduce energy consumption and maximize efficiency in small square footage.
The Ecooking column-style kitchen unit has all the convenience of a full sized kitchen in the footprint of a structural column. The unit is similar to a Swiss Army knife – it performs many functions but folds up into one compact piece. Section by section, each piece can be opened as needed and then closed when not in use. The kitchen includes everything: refrigerator, stove, microwave, sink, storage space, dishwasher as well as a coffee maker and even an herb garden. It's all included in one compact vertical unit and each component unfurls from the central column to provide simple surface area and full functionality.
The kitchen is carefully designed with sustainable technologies to ensure very little environmental impact. The smart design includes a gray water filtration system where water from the sink is reused in both the dishwasher and to water the herb garden on a vertical green wall. The electrical elements of the system are powered by solar panels.
No other area in the home compares to the kitchen when it comes to bringing people together. Have no fear -- in the Ecooking kitchen, no amenity is compromised while simultaneously providing more space. In addition to appliances, the kitchen has a dining area and extra storage. Need to warm up hors d'oeuvres in the convection oven or chill wine in the fridge? Everything is available at your fingertips.
Designed by Massimo Facchinetti, the Ecooking unit will be produced by Clei and become available next year.
For more photos, visit: http://www.resourcefurniture.com/pressroom
ABOUT CLEI S.R.L.
Clei s.r.l. , based in Italy, has been fusing high design, innovation and patented technology with smart and stylish furniture solutions since 1962. Their modern and easy to use transforming wall bed systems are the result of a company philosophy with strong emphasis on research, creativity, and engineering, with fully integrated, modular sleeping, storage, seating, and working solutions. Clei systems are available in North America exclusively at Resource Furniture. http://www.clei.it
ABOUT RESOURCE FURNITURE
Resource Furniture has built a global network of showrooms offering a range of top-selling luxury European furniture. Resource Furniture is dedicated to redefining the use of space and pushing the limits of technology and design. Since 2000, Resource Furniture has imported and distributed inspired, modern furniture from the finest and most innovative European designers. Every piece in the Resource Furniture collection is selected for its ability to transform a space with both beauty and functionality. For more information, visit one of the showrooms in New York, Los Angeles, Toronto, Vancouver, Montreal, and Calgary or on the web at http://www.resourcefurniture.com.