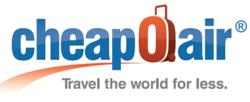 New York, New York (PRWEB) May 23, 2013
Leading travel website CheapOair announced today the launch of its streamlined homepage, meeting customers' demands for a more intuitive user experience. Whether viewed on desktop, mobile phone or tablet device, CheapOair's new site boasts responsive design technology, enhancing the experience across all browsers and providing additional speed and ease of navigation.
"Providing customers access to cutting edge technology will grow our user network, and therefore our business," said Harsh Sood, CheapOair's Chief Technology Officer. "As the methods by which our customers access CheapOair expand, we will continue to evolve and improve the ways in which we communicate with them."
As travelers increasingly rely on mobile and tablet devices to research and book trips, CheapOair's new homepage responds to each user's device, reformatting page content to fit the given screen size. This eliminates the needs for scrolling horizontally and/or zooming in or out. The new site also features a simplified user interface, enabling faster page loading to make booking trips quicker.
The updated look of the CheapOair homepage mirrors the sleek, easy-to-use design of its mobile apps, which have topped user reviews and award lists. Clearly identifying each area of the website – such as where to book, find the newest deals and get customer support – CheapOair has made it easier for customers to locate the content they seek, no matter the screen size or the device.
To see the new homepage, visit http://www.CheapOair.com. For more information, like CheapOair on Facebook or follow them on Twitter.
ABOUT CHEAPOAIR
CheapOair is one of the top 10 travel businesses that serve customers both online and with telephone travel specialists. CheapOair is a supplier of cheap flights, hotel reservations, car rentals and vacation packages. Offering value and convenience to savvy shoppers looking for affordable, one-stop travel solutions, CheapOair's portfolio of products includes millions of airfares on over 450 global airlines, 100,000 negotiated hotels and vacation packages, and car rentals. CheapOair is now available anywhere via the CheapOair mobile site and over 1.4 million downloads of their mobile apps on Android, iPhone, and Windows.
###
MEDIA CONTACTS
5W Public Relations: Chloe Gallo (cgallo(at)5wpr(dot)com) on 212-999-5585