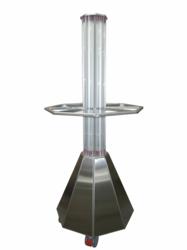 "We have had No post-op infections in Total Hips, Total Knees, CABG or Laminectomy in all of 2013. I'm sure the use of the ultraviolet light has made the difference."
Jouleen Cotton, RN, CIC
Dir. Infection Control
Desert Springs Hospital
Eatontown, NJ (PRWEB) May 24, 2013
The thought of leaving a hospital sicker than when you arrived is scarier than having to go under the surgeon's knife. In a survey reported in NursingTimes.net, "…. nearly three-quarters (74%) were worried about catching MRSA and it seems that many patients are now more afraid of catching an infection than having surgery, even though statistically surgery carries a greater risk (Hinsliff, 2005)." So how are hospitals addressing patients' fears while keeping within the housekeeping budget?
Hospitals have started leveraging innovative technologies historically used in environmental engineering for disinfecting water. UV light and hydrogen peroxide mists bathe rooms once an infected patient has been discharged. UV damages the bacteria so badly that it can no larger reproduce and grow strong enough to cause an infection. Hydrogen peroxide is fogged into a sealed space and, in contact with germs, destroys them by oxidizing the biological cell wall, killing them instantly.
Many of the UV and peroxide products can come at a steep price. Mobile UV light devices can cost $125,000 and fancy peroxide foggers are price about $40,000, before the disinfectant is even added.
TSK Products has been selling both UV and hydrogen peroxide to hospitals that successfully have reduced their Hospital Acquired Infections (HAIs). However, by employing designs found in the water treatment industry to the healthcare market, costs are greatly reduced. TSK Products' 610UVCP, in use in Nevada, Illinois, and New Jersey, cost $18,000. The new design, 840UVC, with more UV output and updated features costs $25,000. By partnering with a chemical company focused on chemistry not machinery, TSK Products sells a hydrogen peroxide fogger for $4,000.
Larger hospitals may have no problem paying $125,000 for UV, but can they afford multiple units? Even a relatively small facility will need several units to disinfect enough "high touch" surfaces that everyone will walk out healthier than they walked in.
Patients need to know that from the time they walk in the front door to the time they leave, they will not acquire an infection. TSK Products shares the patient's expectation of a safe environment and the vision of a hospital where infections are contained is the main driver behind the pricing.
ABOUT TSK PRODUCTS
TSK Products designs, sells, and manufactures products that enhance safety in healthcare. Employing engineering principles in processing, organization development ideas in implementation, and microbiological science in infection control, TSK Products works closely with hospitals to make the workplace and patient interface safe.