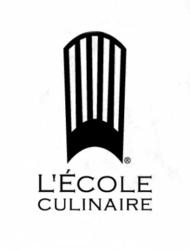 St. Louis, MO (PRWEB) May 23, 2013
The Presentation Room at L'École Culinaire, 9811 S. Forty Drive, is pleased to announce its new lunch menu. Guests are cordially invited to stop by and enjoy a fantastic meal prepared by St. Louis' future chefs.
The diverse and reasonably priced menu ranges from $3 to $13. The delicious lunch menu offers starter options such as corn, potato and Portobello chowder and vegetable Gazpacho with Quinoa Olive Oil and Shaved Parmesan. Several new salad options include Capillini with House Cured Salmon, Caper, Tomato and Herbs with Lemon and Olive Oil, Endives with Lightly Smoked Chicken, Shrimp, Herbs, Walnuts with a light Walnut and Yogurt Dressing and a Southern Style Chop Salad with BBQ Chicken, Corn, Tomato, Pecans, Bacon, Cheddar and Croutons with a light BBQ Vinaigrette.
Entrée offerings include Pork Tenderloin with a Bacon Crust and Fresh Corn Polenta, Tuscan Style Grilled Steak with Lemon Parmesan with a touch of White Truffle Oil, as well the fresh seafood and special of the day. Additionally, the new lunch menu features sandwiches such as a California Chicken Club, Grilled vegetable Sandwich with Black Mayo and Crispy Tilapia with Mango, Lettuce and Red Curry Mayo as well as a delicious pasta of the day.
Rounding out this terrific new menu are the dessert selections which include Caramelized Pineapple with Vanilla Ice Cream, Tiramisu with Strawberries and other season selections.
Lunch reservation times are from 11:30 a.m. - 12:30 p.m. To make reservations call (314)-587-2433 or for more information visit http://www.lecole.edu
About L'École Culinaire
L'École Culinaire offers culinary training for the career-minded chef. Students experience hands-on training and instruction from professionals in the culinary industry. For more information, please visit http://www.lecole.edu.
###