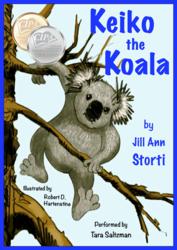 I had a hunch 'Keiko The Koala' would translate as a great audiobook
Evergreen, Colorado (PRWEB) May 24, 2013
Brook Forest Voices (BFV), audiobook and enhanced eBook producer and publisher, was awarded the 2nd and 3rd place awards in the Audiobook and the enhanced eBook categories at the 19th Annual Colorado Independent Publishers Association (CIPA) EVVY Awards ceremony held in Denver, CO on Saturday May 18, 2013. This is the second consecutive year BFV has been recognized by CIPA at the EVVY Awards.
"BFV was very excited when South Carolina author Jill Ann Storti chose us to produce and publish her first children's book, 'Keiko the Koala' as an audiobook and enhanced eBook," stated Diana Andrade President and Publisher of Brook Forest Voices. "I had a hunch 'Keiko The Koala' would translate as a great audiobook and the 2nd place award in the audiobook EVVY Awards category bears that out. Likewise I felt the interactivity of an enhanced eBook would be a perfect entertainment vehicle for children, so the 3rd place award in the Children's Picture Book category was extremely satisfying."
About Brook Forest Voices: a complete audio production studio located just west of Denver in Evergreen, CO, specializing in audiobook narration, production and publishing. BFV is designed to help large and small publishers, as well as authors, with all their audio needs. Publishers and authors wanting to learn more can visit http://www.brookforestvoices.com or contact Jaime Andrade, BFV Business Manager at 303-670-4145.