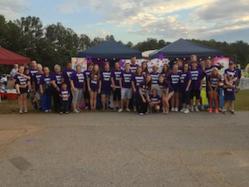 They far surpassed expectations raising over $6,300 for cancer research!
Duluth, Georgia (PRWEB) May 22, 2013
HR Strategies recently participated in the Gwinnett Relay For Life event, hosted at the Gwinnett County Fairgrounds, on Friday May 10, 2013. For never having participated as a company before, they far surpassed expectations; raising over $6,300 for cancer research.
HR Strategies was a corporate sponsor for the event, donating the first $3,000 for Bronze Level Sponsorship. HR Strategies CEO, Jim Beesley, challenged the internal staff to match the company's contribution of $3,000; and after just one month of fundraising, the internal staff and their family and friends rose to the challenge and raised over $3,100 by the Friday of Relay For Life.
At the actual event at the Gwinnett Fairgrounds, HR Strategies set up tents and tables and sold cold water, Frisbees, and raffle tickets for haircuts, shampoo sets, and a hair care gift bag worth over $200. Genesis Salon in Hamilton Mill, an extension of Salon 124, generously donated the hair products and haircut gift certificates to HR Strategies. HR Strategies also sold temporary tattoos and glitter tattoos—both of which were a huge hit with the kids at Relay. They also had a few internal employees painting faces, and there was a constant waiting line for face painting. Their onsite fundraising efforts raised over $200, bringing their overall total funds raised to $6,302.
HR Strategies is excited to make participating in Relay For Life as a company a tradition. Having only a month to prepare for this past Relay, their internal staff are all enthusiastic to get started early next year, and to set even higher fundraising goals. Philanthropy is imperative to the HR Strategies staff; they know how important it is to support the community. To see more of their journey, visit their Facebook page and check out the Relay For Life album.
About HR Strategies
HR Strategies provides the customizable HR Solutions (including but not limited to payroll, benefits, workers' compensation, tax administration, regulatory compliance, HR consulting, training solutions) and expertise of a large corporation's personnel department in an affordable and effective solution. HR Strategies enables clients to reclaim time, stabilize and reduce labor costs, and stay compliant with government regulations.