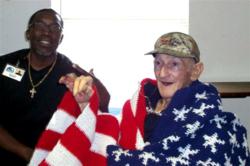 Supporting those around us can be as simple as lending an ear or holding a hand.
Alexandria, VA (PRWEB) May 23, 2013
Memorial Day is Monday, May 27, a day that marks the start of the summer season for many Americans. Across the nation, people will have picnics, visit loved ones, and enjoy the long weekend. NHPCO encourages Americans to reach out to those who have experienced the loss of a loved one in military service.
As the nation marks Memorial Day this year, the U.S. is still involved in conflicts abroad. Serious injuries and the untimely deaths of brave service men and women remind all Americans that life is precious. Families at home deal with separation and concern for loved ones far away.
Memorial Day is a time to publicly show respect for those who have lost their lives in defense of our country and provides an opportunity to offer support to grieving loved ones.
Hospice and palliative care professionals, who help families cope with loss, offer some thoughts for supporting a friend, neighbor, or coworker who may have lost a loved one in military service:
Acknowledge the Day – a phone call or card to the family can be a source of comfort. Tell a story about the one who has died and/or ask the family to share a story or memory. Keeping a loved one's memory alive is an important part of healthy grief and coping and reminds the family of the importance of the life that has been lost.
Be with Someone Who May be Alone – on Memorial Day, offer to take him or her to the cemetery or other place/event of remembrance such as a community parade or concert. People are sometimes reluctant to take advantage of such opportunities alone and will appreciate your thoughtfulness and offer to accompany them.
Be Willing to Listen – Be there and let a grieving friend share the range of emotions they may be coping with during this day of national remembrance. While it can be difficult to hear someone share painful emotions, being able to let those we care about freely share their feelings openly can be an important gift.
Make a Donation to a Charity – a gift in memory of the person who has died, to a charity that was important to the individual or family, can be a powerful reminder that the loved one is remembered.
"Memorial Day can be a time to reach out to each other and share in our communal experience of grief and loss – as well as national pride," said J. Donald Schumacher, NHPCO president and CEO. "Supporting those around us can be as simple as lending an ear or holding a hand."
Additionally, this day of remembrance is particularly meaningful to our nation's Veterans who, amidst Memorial Day activities, deserve support and recognition of their service and the losses experienced.
U.S. Veterans may be mourning brothers and sisters in arms who were lost during World War II, Korea, Vietnam, or more recently in the Middle East or Afghanistan. Past traumatic memories and losses are often rekindled. This is a natural part of grieving and calls for our compassion and support.
"In supporting those who are grieving – whether it is a recent loss or one from years past – we honor those who have sacrificed so much," added Schumacher.
Hospice organizations throughout the country are answering the call to serve our Veterans through NHPCO's We Honor Veterans initiative. They know that supporting those around us can be as simple as lending an ear or holding a hand.
A community hospice can be an important source of information on grief and bereavement. NHPCO's Caring Connections offers information on grief and loss at caringinfo.org/grief or call the HelpLine at 1-800-658-8898.