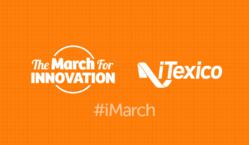 "Talent is found in many different places outside the US but having the opportunity to consolidate diversity in this nation to fire up innovation is something that embodies the true American dream. " ~ Anurag Kumar, CEO of iTexico
Austin, TX (PRWEB) May 22, 2013
"Talent is found in many different places outside the US but having the opportunity to consolidate diversity in this nation to fire up innovation is something that embodies the true American dream. We must be willing to support a joint collaboration within government and entrepreneurs to continue looking forward into the future and continue to serve the global market in a way that very few can." said Anurag Kumar, CEO of iTexico. Anurag, in collaboration with Mexican and Indian entrepreneurs, has started a successful business providing world-class software development services and created numerous jobs in the US and Mexico.
As part of the nation-wide event, Anurag Kumar will be speaking at the March for Innovation Conference and live streamed from multiple locations including Austin, TX. This conference is bringing awareness of how immigrants contribute to business innovation & entrepreneurship. Additionally, key national leaders will share focused insights on comprehensive immigration reform. Key innovation and tech supporters of the iMarch include: Mayor Michael Bloomberg of New York City, Steve Case co-founder of AOL; CEO of Revolution, Craig Newmark, Founder of Craigslist, Drew Houston founder and CEO of DropBox, Padmasree Warrior the Chief Technology & Strategy Officer of Cisco Systems, David Karp the founder and CEO of Tumblr, Mayor Ed Lee of San Francisco, Gary Shapiro the CEO of Consumer Electronics Association, Dave McClure the Founding Partner of 500 Startups, and Governor Arnold Schwarzenegger.
The Austin Town Hall is sponsored by the March for Innovation, uShip, Partnership for a New American Economy, SocialGoodTV, the Alliance of Texas Angel Networks, the Austin Tech Incubator (ATI), Texas Instruments, Mass Relevance, and Tito's Handmade Vodka. The March for Innovation Conference is scheduled to start at 5:30pm. Attendees help to create awareness through social media and discussions regarding innovation in technology and other markets where immigrant entrepreneurs have been a key part of and can follow the conference on Twitter using the hashtag, #iMarch.
iTexico has been continuously pushing for innovation in global markets, by providing nearshore services with teams located in Mexico and offices located in key locations like Silicon Valley and the Austin region, iTexico has helped to create several jobs inside and outside the US and generate high value products and services in web and mobile app development to a largely American customer base. Being aware of the opportunity for growth in the technology industry and the important role that immigrants play in the future of enterprise and consumer markets, has allowed iTexico to comprehensively address the needs of a very complex, yet very promising market that is conscious of the benefits of interacting and collaborating with immigrant entrepreneurs to reach a higher level of innovation and bridge the gap between cultures and geographic boundaries.
iTexico, a nearshore mobile and web development company based in Austin is pleased to be part of the upcoming March for Innovation in Austin, Texas. The March for Innovation is a national movement that aims to push for smart, comprehensive immigration reform to attract and keep talented professionals and entrepreneurs to increase innovation and growth in the American economy.