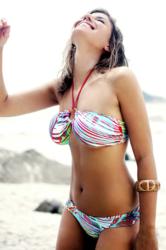 We don't chase trends that go away quickly. Speed often hampers creative ideas. In Dunnas we focus on design, quality and details that will be loved for ages.
Gatteo Mare, Italy (PRWEB) May 25, 2013
Dunnas, known as a premium fashion brand, based in Gatteo Mare, Italy, is pleased to announce that the brand will start operations in North America in July with a presence at the Swimshow 2013 (booth # 685) in Miami Beach Convention Center.
Dunnas will exhibit the "Collezione 2014" designed in Italy by Francesca Magnani, composed of 40 models of swimwear with designs inspired by the nature of Brazil, made with high quality and certified fabrics. Dunnas will bring eyewear, handmade shoes and retro Italian style bicycles.
In 2012, Dunnas began to expand its product line from a business of swimwear to a fashion brand; creating new products that followed the spirit of Italian design and quality. Today Dunnas has presence across Europe in the most high-end stores and in July we will be ready for the North America market.
Francesca Magnani, Head of Design and Stylist, states: "We don't chase trends that go away quickly. Speed often hampers creative ideas. In Dunnas we focus on design, quality and details that will be loved for ages; that is our philosophy. Dunnas will be always proactive with regard to challenging and asserting ourselves. We provide high quality and fashionable products for women from around the world."