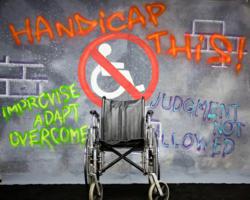 Judgement Not Allowed - Mike Berkson and Tim Wambach
Cedar Rapids, IA (PRWEB) May 22, 2013
Diversity Focus and Handicap This Productions announce the inspirational theatre piece Handicap This! The performance promotes awareness that physical disabilities do not stop people from pursuing their dreams. The Handicap This! performance will be held Friday, June 14th at 7:30 p.m. at the Linn Mar High School auditorium. Tickets for Handicap This! can be purchased at http://www.diversityfocus.org.
Handicap This! helps audiences measure the level to which their mind is handicap accessible. Mike Berkson and Tim Wambach bring their true-life adventure to the stage with music, humor and honesty. It is a provocative look at friendship, breaking down barriers, living with disabilities and most of all about living to your potential. This stage show is their real story. Tim and Mike's overall mission and compelling true story will raise awareness about people born with severe physical handicaps and inspire individuals to achieve their own goals and dreams.
It all started in the spring of 2001 when Tim Wambach stopped by a school district office in Glenview, IL on a whim and put in an application to be a substitute teacher, but that's when the wheel of fate began to roll. Soon, he found himself face-to-face with a 12 year-old kid named Mike Berkson, a warm, funny, optimistic genius trapped in a body challenged by Cerebral Palsy. The teacher was in for the biggest lesson of his life. Tim and Mike formed a friendship at that middle school; a bond that has continued to this day, with an incredible revelation that would change lives everywhere and an amazing physical act that inspired thousands. Each discovered something within the other that connected and inspired them. Handicap This! Is a powerful stage show that pushes the envelope and will stir your senses, challenge your thinking, and wake your attitude no matter your age.
PRICE & PERFORMANCE SCHEDULE - Handicap This!
Performance: June 14, 7:30 p.m., Linn Mar High School Auditorium
Ticket price: $20, go to http://www.diversityfocus.org/handicapthis to purchase.
Diversity Focus Vision:
Diversity is the crucial link to economic, cultural, academic, and technological success. Diversity Focus' vision is for the Corridor community to be the model of inclusion that values, nurtures, attracts, and retains people of diverse backgrounds, cultures and beliefs.
For more information about Diversity Focus, please visit http://www.diversityfocus.org.