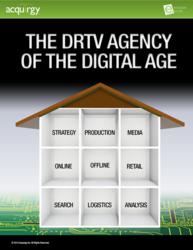 St. Petersburg, FL (PRWEB) May 24, 2013
We live in a world where real-time optimization of marketing campaigns is necessary for success, and failure to act in a timely manner gives the opposition an open door to capitalize on consumers who are searching for DRTV-advertised products.
With more and more responses coming online, competitors bidding on your company and product names in search, and technology that allows just about any marketer to be very nimble, the old way of doing business just doesn't cut it. This eBook looks at how DRTV agencies need to change in order to take advantage of tools that enhance real-time optimization of DRTV campaigns. Sections:

Key Factor That Impacts DRTV Campaigns
The Landscape Facing DRTV Marketers and Agencies
How Most DRTV Agencies Manage Multichannel Campaigns
The Importance of Real-Time Analysis and Change
The Importance of DRTV Agencies Being Tech Savvy
Real-Time DRTV and Paid Search
Real-Time DRTV and the Web Site
Real-Time DRTV and Data Flow
Real-Time DRTV and Online Tactics
Real-Time DRTV and Social Media
Is Your DRTV Agency Outside Its Comfort Zone?
This ebook can be obtained here: http://AGY1.acquirgy.net
About Acquirgy
Acquirgy (http://www.acquirgy.com) is an Acquisition Marketing Agency developing and executing accountable marketing programs driven by immediate and measurable response metrics across all digital and traditional platforms. Proprietary tracking systems integrate all transactional media, logistic and response data from all platforms to optimize client profitability. Acquirgy's CustomerAcquisition IntelCenter (http://www.acquirgy.com/intel) offers 100+ papers, briefs, ebooks and more on proven best-practices tactics and strategies.