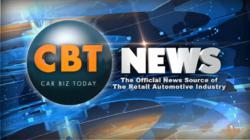 "We expect CBT News to earn a reputation as a valued news source designed specifically for them." - Jim Fitzpatrick, Founder of CBT News.com
Atlanta, GA (PRWEB) May 23, 2013
Jim Fitzpatrick just did it again. The Founder and CEO of Fitzpatrick Advertising developed yet another outside-of-the-box approach to reaching the retail automotive industry. With the launch of CBT News.com, he brings daily newscasts to the retail automotive industry, blending the immediacy of digital media with the delivery of a broadcast news format.
CBTNews.com is an innovative website covering the latest in retail automotive news. Co-anchors Bridget Everett and Russell Brown host the show with videos, news reports and interviews with leaders in the industry. The broad range of articles and video clips included on the web site also feature experts on topics from sales training techniques to fixed ops. Sidebars carry relevant tools like NADA news and career opportunities as well as links to social sites.
One of the nation's top automotive dealership advertising professionals in the industry, Fitzpatrick has over 30 years in the business so he knows his audience. Rising from rookie salesman to general manager for several high-volume dealerships, his extraordinary list of accomplishments also includes a role in building AutoNation, the largest automotive retailer in the country. His segue into automotive advertising began in 2004 with the formation of two powerhouse agencies--Force Marketing and Fitzpatrick Advertising--creating compelling multimedia campaigns for new car dealers nationwide.
The next step into digital media seemed natural. Since its inception in 2012, CBT News has garnered nearly 100,000 views a month, and Fitzpatrick expects those numbers to grow exponentially. "Nothing like this has ever been done before, and with over a million people who work in the retail automotive industry nationwide, we expect CBT News to earn a reputation as a valued news source designed specifically for them," Fitzpatrick explains. "For those who have not already done so, I encourage dealers everywhere to make CBT News their homepage."
If past enterprises are any indicator, Fitzpatrick's CBT News will become another successful jewel in the crown. Force Marketing, one of the most recognized leaders in automotive direct mail and digital marketing, has been named as one of the fastest growing privately held companies by INC Magazine for three years in a row, and Fitzpatrick Advertising was recognized as one of the city's Top 25 Advertising Agencies & Marketing Firms in Atlanta Business Chronicle's Book of Lists.
"We are very excited about providing dealers nationwide with news and information to help them run their dealerships better," Fitzpatrick. "We want to be their 'go to' source."