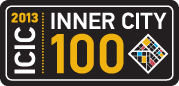 "Achieving 38th place on this prestigious list not only recognizes Ansira's significant growth, but also the company's commitment to the St. Louis inner city."
St. Louis, MO (PRWEB) May 24, 2013
The Initiative for a Competitive Inner City (ICIC) and FORTUNE announced that Ansira has been selected for the 2013 Inner City 100, a list of the fastest-growing inner city companies in the U.S.; Ansira ranked #38 on the list of 100. The Inner City 100 program recognizes successful inner city companies and their CEOs as role models for entrepreneurship, innovative business practices and job creation in America's urban communities.
The rankings for each company were announced at the Inner City 100 Awards on Tuesday, May 21, 2013 in Boston, Massachusetts. The Awards marked the Inner City 100 program's 15th year and launched a formal alumni network of Inner City 100 winners.
"We are excited to celebrate inner city businesses like Ansira whose success stories are not told nearly enough," said Mary Kay Leonard, ICIC President and CEO. "These entrepreneurs are driving economic forces in America's urban cores, growing their communities along with their businesses."
"Ansira is pleased to have received this distinction now twice in five years, because it not only recognizes Ansira's significant growth rate, but also the company's commitment to St Louis' inner city," said Mark Mantovani, Ansira's President/CEO.
The full list can be viewed at Fortune.com.
# # #
About Ansira
Ansira, an industry leader in integrated customer engagement, leverages superior marketing intelligence to build deeper, more effective relationships with consumers and the retail channel partners that engage them on the local level. Marketing intelligence is infused across all disciplines and executed through trade promotion, digital, direct, marketing automation, media and creative execution. The company is among the 15 largest independently owned marketing agencies in the United States. Clients include Coca-Cola, Domino's, Ford, Rent-A-Center, Honda/Acura, Nestlé Purina, Microsoft, Wendy's, Cisco and others. Ansira has offices in St. Louis, Dallas, Chicago, Los Angeles, New York, Seattle, Detroit, Atlanta and Cedar Rapids.
http://www.ansira.com
Contact: Susie Weitzer
Vice President
314.783.2355
susie.weitzer(at)ansira(dot)com
About Initiative for a Competitive Inner City
ICIC is a nonprofit research and strategy organization and the leading authority on U.S. inner city economies and the businesses that thrive there. Founded in 1994 by Harvard Business School Professor Michael Porter, ICIC expands inner city economies by providing businesses, governments and investors with the most comprehensive and actionable information in the field about urban market opportunities. ICIC's unique knowledge and expertise about inner city success factors and thriving companies is developed from specialized urban networks and path-breaking research.
http://www.icic.org