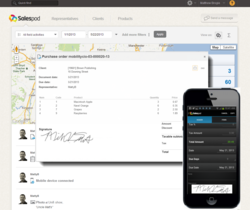 Reps are able to collect signatures on custom forms and orders using Salespod on their Smartphone or Tablet.
Boston, MA (PRWEB) May 23, 2013
Salespod, Inc., the maker of the agile field sales and retail merchandising automation tool Salespod, has announced the availability of electronic signature capture on its mobile forms and orders. This capability enables a fully paperless process that includes documentation of acceptance and authorizations. Reps are able to collect signatures on custom forms and orders using Salespod on their Smartphone or Tablet. Signatures are immediately synchronized with the Cloud Based Salespod console where they can be retrieved, displayed and printed by back-office personnel.
Salespod is changing the way that companies manage their mobile workforce by leveraging mobile technologies to greatly streamline how information moves between the field and the back office. Salespod drives sales effectiveness in the mobile workforce by providing high value functionality on smartphones and tablets. With this latest innovation, Salespod has enabled a higher level agility and accuracy within field organizations, and increased the efficiency with which field reps can conduct their sales, and marketing activities.
"The availability of electronic signature capture increases sales efficiency by eliminating any need for paper," says co-founder of Salespod, Marko Linke, "while greatly enhancing the accountability associated with transactions in the field."
Salespod leverages touch enabled iPhones, Android Phones and Tablets to allow people to sign documents on the screen using their finger or a stylus. The signature is digitized and transmitted to the Salespod database as part of the form or order that was signed. Back office users are able to display the form along with the signature, and can also print or eMail a link to the form.
Salespod with Signature Capture is available today on Android and iOS based smartphones and tablets. The solution is cloud based, so it requires no IT support to set up, and can be made operational in minutes. Salespod is a Sales Effectiveness tool that is rich in features to drive Sales Efficiency, and gives Sales management real-time visibility into field activities. The solution consists of a map enabled web-console where Sales Managers can monitor field activity, and review streaming data in real time, and a mobile component used by reps to access all of their client details and history, and to collect and report orders, photos and flexible form based data.
Salespod is used by companies around the world to enable Agile Field Sales practices in many industries, including Healthcare, Fast Moving Consumer Goods, Beverage Distribution, Parts, Supplies and Services sales and merchandising.
About Salespod:
Salespod specializes in developing mobile software solutions for enhancing sales processes for the FMCG (fast moving consumer goods) industry, the pharmaceutical industry and the cosmetic industry. Since their founding in 2008, the vision has been to offer the most comprehensive and convenient mobile solutions on the market for sales and mobile management. Coined the "swiss army knife for your mobile workforce," the software is used by L'Oreal, Lavazza, Keune Haircosmetics, Julius Meinl, Jaegermeister and many others. Salespod's solution is poised to change the way field sales teams communicate, collaborate, and conduct business. This is a fundamental shift occurring in field sales and merchandising. Gone will be the days of clunky CRM systems. For more information or a free trial, go to http://www.salespod.net. For industry industry news and reports, visit the Salespod blog at http://www.salespod.net/blog/all-news/ or Twitter.com/salespod.