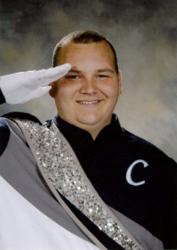 "Yamaha is unwavering in its support for music education at all levels," said Troy Wollwage, Marketing Manager for Yamaha Percussion.
Dayton, Ohio (PRWEB) May 22, 2013
Alex Sisk is the recipient of the 2013 Yamaha/Dennis DeLucia Scholarship. The award, named for famed percussion teacher, arranger, clinician and judge Dennis DeLucia, is awarded each year at the Winter Guard International (WGI) Indoor Percussion World Championship Finals to a deserving percussionist. Yamaha donates the $1,000 scholarship.
Alex Sisk, a senior at Clover High School, South Carolina, plans to study music education at Winthrop University and then transfer to the University of South Carolina. For the past three years, Sisk marched cymbals for the Clover Indoor Percussion Group and this past season served as the cymbal captain. Sisk began playing in band in the sixth grade and also plays the alto saxophone in the top band at his high school.
"I am very honored and thankful for this opportunity that WGI and Yamaha gave to me," said Sisk. "Everything that I thought I had accomplished on my own could never have been achieved without those who work behind the scenes to make things happen. I have a passion for music that burns very deep and look forward to pursing my musical studies and furthering my education."
The WGI Indoor Percussion World Championships is the culminating event of the season for indoor percussion, with 210 percussion ensembles traveling to Dayton for the 2013 Championship finals.
The Yamaha/Dennis DeLucia Scholarship is both a way to honor Mr. DeLucia's contributions to marching music and a continuation of Yamaha's long history of supporting the study of music. This year marks the eighth presentation of the award at WGI.
"Yamaha is unwavering in its support for music education at all levels," said Troy Wollwage, Marketing Manager for Yamaha Percussion. "Today, our support is unmatched by any other music instrument manufacturer. Education is at the core of what we believe in as a company. When we give young people support and assistance, then musicianship in the future will flourish. This scholarship not only represents Mr. DeLucia's contributions to the indoor percussion activity, it stands as a testament to our company and our foundation."
For more information on Yamaha, write Yamaha Corporation of America, Band & Orchestral Division, P.O. Box 6600, Buena Park, CA 90622; telephone (714) 522-9011; e-mail infostation(at)yamaha(dot)com; or visit http://4wrd.it/marchperc.
About Winter Guard International (WGI)
WGI Sport of the Arts is the world's premier organization producing indoor color guard and percussion ensemble competitions. As a non-profit youth organization, WGI serves as the leading governing body of the winter guard and indoor percussion activities. It is called the Sport of the Arts because it brings music to life through performance in a competitive format. Now entering its 36th year, the sport continues to evolve and grow. There were more than 36,000 participants at the regional level, and more than 11,000 participants at the Sport of the Arts World Championships this past April.
About Yamaha
Yamaha Corporation of America (YCA) is one of the largest subsidiaries of Yamaha Corporation, Japan and offers a full line of award-winning musical instruments, sound reinforcement and home entertainment products to the U. S. market. Products include: Yamaha acoustic, digital and hybrid pianos, portable keyboards, guitars, acoustic and electronic drums, band and orchestral instruments, marching percussion products, synthesizers, professional digital and analog audio equipment, Steinberg recording products and Nexo commercial audio products, as well as AV receivers, amplifiers, Blu-ray/CD players, iPod docking systems, home-theater-in-a-box systems, earphones, headphones, sound bars, and its exclusive line of Digital Sound Projectors. YCA markets innovative, finely crafted technology and entertainment products and musical instruments targeted to the hobbyist, education, worship, professional music, installation and consumer markets.